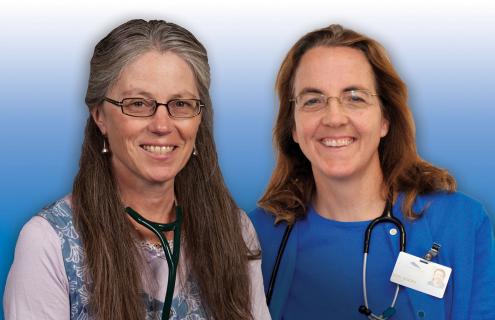 Dr. Mary Bender and Dr. Kimberly Aakre of Mt. Ascutney Hospital and Health Center (MAHHC) were cited for a Special Achievement Award by the Vermont chapter of the American Academy of Pediatrics (AAP) at their 2017 District Awards Dinner in Burlington, Vermont. The award recognized the doctors' work to create a special program to develop a system of support and care for mothers who are in recovery from opiate addiction and their young children. Nominated individuals must be members of the AAP.
Concerned by the effects of opiate addiction on young families, Drs. Bender and Aakre have refined the program over the past few years. In 2015, the project received a $10,000 grant from the national AAP's Community Access to Child Health (CATCH) program to support their work. "As pediatricians, we know that a child's healthy growth and development is vitally dependent on the health and well being of the parent and caregivers," said Dr. Aakre. "That's one reason why we're making a concerted effort to identify the scope and needs of the population we serve, develop protocols for care, and strengthen community supports and resources for this vulnerable group." Dr. Bender noted, "The most important action we can take for our young patients' physical, emotional, and intellectual development is to support their parents' recovery from addiction. Our pediatric team of doctors,  nurses, secretaries, care coordinator, and family wellness coach are grateful to the addiction treatment providers here and throughout the upper valley who have helped us build our capacity to treat families touched by opiate addiction."
The doctors, who are both fellows of the AAP, were nominated by the Vermont chapter of the AAP "for their enthusiastic work to help opiate-addicted families in their pediatric practice", according to Dr. Wendy Davis, AAP District 1 Chairperson. "This issue is a high priority for Vermont pediatricians and family physicians who care for children and families," said Dr. Davis", and the AAP Vermont chapter was proud to nominate these members for their innovative approach and commitment to serving this group of patients."
"Opioid addiction is a health issue with a huge ripple effect, from those who experience it firsthand, to their families, to our communities," said Dr. Joseph Perras, MAHHC CEO and Chief Medical Officer. "No town is immune," said Dr. Perras, "and as healthcare providers, we see it right here in the communities we serve. Dr. Bender and Dr. Aakre are wonderful examples of how doctors at Mt. Ascutney Hospital are going above and beyond to ensure healthier outcomes for their patients. I congratulate them on this well-deserved honor."
Dr. Aakre, who joined MAHHC in 2013, graduated from the University of Wisconsin Medical School, in Madison, WI, and completed her residency at the Albany Medical Center in Albany, NY. She is board-certified in Pediatrics and Developmental Behavioral Pediatrics. Dr. Aakre is a past president of the AAP Vermont chapter.
Dr. Bender is a board-certified Pediatrician who graduated from Boston University Medical School in 1989, and completed her residency at Tufts New England Medical Center in Boston in 1993, where she served as chief resident. In 2010, she joined the pediatric primary care team at Mt. Ascutney Hospital. Dr. Bender is a certified lactation consultant, dedicated to helping families with family planning and with transitions following separation, divorce, and remarriage.