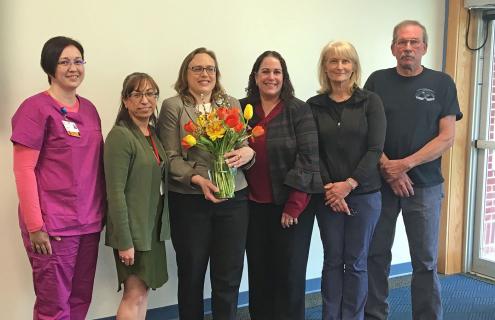 Mt. Ascutney Hospital and Health Center (MAHHC) recently hosted a gathering of employees and friends at the first annual Nurses Week Awards, which was inaugurated to recognize nursing professionals who go above and beyond for their patients and colleagues. The event was held as part of National Nurses Week, which was celebrated from May 6 to May 12. Light refreshments were served.
The ceremony included opening remarks by Susan Reeves, Chief Nursing Executive of Dartmouth-Hitchcock Health, along with Deanna Orfanidis, MS, RN, and Chief Nursing Officer at MAHHC, who also delivered closing remarks. The awards were presented by Felicia Murray, RN, President of Interdisciplinary Clinical Practice Governance (ICPG) at MAHHC. Guided by the Professional Practice Model, the ICPG is the structure that unites all nurses and disciplines at the Hospital. The ICPG promotes excellence in practice, enriches professional life, and engages all interdisciplinary teams in leadership and decision-making, in order to ensure the delivery of high-quality care and improve patient outcomes.
Five awards were presented, including: Licensed Nursing Assistant of the Year, to Richard Warner, LNA; Licensed Practical Nurse of the Year, to Melissa Hall, LPN; Certified Medical Assistant of the Year, to Anel Sirois, CMA; the Exemplary Professional Practice Award, to Edita Hartig, RN; and the MAHHC Nursing Excellence Award, to Margaret Worth, RN.
The recipients of the awards were selected by the Interdisciplinary Clinical Practice Governance Coordinating Council from a pool of nominees submitted by their peers. Nominees must have recorded achievements in one or more of the nursing profession's major domains: practice, education, and research. They must demonstrate leadership in at least two areas: advancing the practice of nursing; improving the quality of care; promoting and maintaining professional nursing standards; contributing to the enhancement of professional nursing; and demonstrating excellence in teaching and role development.
"The theme of this year's National Nurses Week is 'Nurses Inspire, Innovate, Influence,' and that's certainly true of all of our honorees," said Orfanidis. "Each of the nurses recognized today serves their patients with grace, ingenuity, and incredible skill. They're role models to their colleagues and we couldn't have asked for a better group of compassionate professionals to inaugurate this new tradition."