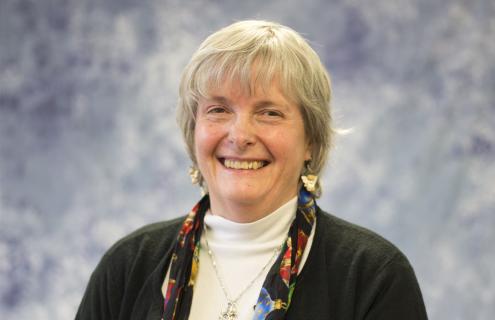 Mt. Ascutney Hospital and Health Center (MAHHC) is proud to announce that Jill Lord, RN, MS, Director of Community Health at MAHHC, is the recipient of the 2018 Miles Jensen Award. Since 1991, this award has been given annually by Housing Vermont "to an individual who has made an outstanding volunteer contribution to affordable housing in Vermont," according to the organization. Additional criteria include empowering underprivileged people and donating time to create grassroots support for community improvement. The award is named for Miles Jensen, a founding member of Housing Vermont who advocated for low-income people and social justice.
The award was presented to Lord by Nancy Owens, President of Housing Vermont, in a ceremony at MAHHC attended by Hospital CEO and Chief Medical Officer Dr. Joseph Perras. According to Owens, the award acknowledges Lord's work with residents of Windsor, Vermont's Union Square Apartments, which is owned and operated by Housing Vermont. She explains, "In 2015 we began surveying residents about their satisfaction with their housing and to learn what programs or other activities they might be interested in having. Jill connected us with the concept of the Learning Kitchen." As part of the Learning Kitchen program, residents learned new cooking skills, healthy meal planning, and took a trip to the grocery store to purchase ingredients for a low-cost healthy meal they prepared." Jill made this possible by connecting us with a MAHHC Nutritionist and Chef who provided the instruction and good humor, which kept residents engaged," says Owens. She points out that the Learning Kitchen addresses a pressing need in Vermont, explaining, "As many as 10 percent of all Vermonters don't have regular access to nutritious food each day, and as many as 15 percent of Vermont's kids don't have enough healthy foods in their homes." She adds that the program also helped to foster community among Union Square Apartments residents, saying, "Thanks to these classes, a group of three women began to plan their meals together in an effort to save money, but this turned into a friendship which still continues today. We can't make an apartment building a home without community support and connection."
Dr. Perras calls Lord's work with the Learning Kitchen a perfect example of how she contributes to the health and wellness of the communities served by MAHHC. "This is just one of the many opportunities Jill has seized on to improve the health of the entire population, driven by the goals established by our regular Community Health Needs Assessment and other quality measures," says Dr. Perras. "She has an amazing ability to reach out and form connections that benefit everyone. We're proud of her for earning this deserved award, and for all of her many efforts to make life better for the people of our region."
Lord, who has served as Director of Community Health since 2016 holds an MS in Human Services Administration from New Hampshire College in Manchester, New Hampshire, and received in BSN from the University of Vermont in Burlington, Vermont. She has been a nurse for 40 years and was Chief Nursing Officer and Director of Patient Care Services for the Hospital for nearly 25 years prior to her current position.
About Housing Vermont
Housing Vermont is a nonprofit syndication and development company that produces permanently affordable housing and enables investments in economic and community development to benefit Vermonters and other New Englanders through partnerships with communities and the private sector. Housing Vermont is an industry leader in providing rural affordable housing and community development. HVT's diverse portfolio of partnerships and investments have created significant social impact: HVT has produced 6,000 affordable apartments in 180 developments and has raised and deployed $360 million in private equity, which has leveraged an additional $470 million in private financing and public investment.
About Mt. Ascutney Hospital and Health Center
Founded in 1933, Mt. Ascutney Hospital and Health Center (MAHHC) is a not-for-profit community hospital network in Vermont including the critical access-designated Mt. Ascutney Hospital and Historic Homes of Runnemede, a senior residential care campus, in Windsor, as well as the Ottauquechee Health Center in Woodstock. A member of the Dartmouth-Hitchcock Health system, MAHHC provides primary care and a comprehensive suite of specialty services, along with 25 inpatient beds, a therapeutic pool and an acclaimed, fully modernized 10-bed Acute Rehabilitation Center. Mt. Ascutney Hospital and Health Center is dedicated to improving the lives of those it serves and is at the hub of a wide network of community resources that have partnered to cover gaps in services, and improve overall population health. One of the largest employers in the area, MAHHC acknowledges its employees as its greatest asset and has been recognized by the Governor's Office with an Excellence in Worksite Wellness award.
Mt. Ascutney Hospital and Health Center is accredited by the Commission on Accreditation of Rehabilitation Facilities (CARF), is a recent recipient of Best Practice recognition by the National Rural Health Association (NRHA) for health care quality, and is recognized by the American Hospital Association (AHA) as one of the "Most Wired" hospitals for integration of technology to boost clinical performance. The National Committee for Quality Assurance (NCQA) has awarded MAHHC with Level 3 status, the highest level of medical home designation.