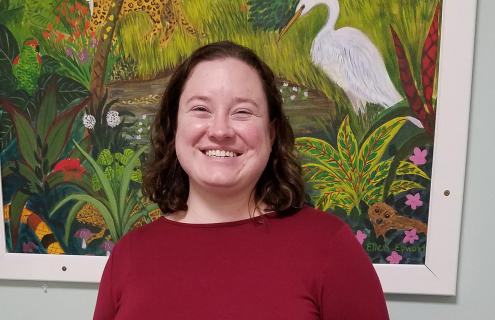 Mt. Ascutney Hospital and Health Center (MAHHC) has announced that Pediatric Nurse Lily Burke has been named as Employee of the Month for September 2019. The monthly award recognizes employees who have demonstrated sustained service excellence in their respective departments and have displayed compassion, a caring approach, and continuous hard work within their community.
As a Pediatric Nurse, Burke focuses on the medical and emotional needs of infants, children, and adolescents, interacting with young patients and their families. As part of the pediatric care team, she assesses patient needs and provides initial care. She documents symptoms and medical histories, draws blood, administers medication, and gives vaccinations, among many other duties.
Burke's supervisor, Suzanne DelloRusso, says, "In the three years Lily has been the lead pediatric nurse, she has shown she can handle anything that comes her way! She has a warm, calming voice on the phone for families and is a skilled diagnostician. New mothers value and appreciate her lactation expertise. We value her conscientious approach to everything she touches, from system problems to patient assessments and getting pre-visit planning done right. Lily is willing to help in any way needed and she does it with a smile and can-do attitude. We are so grateful for the work she does in caring for our patients. Thank you, Lily, and congratulations!"
Burke, a resident of Hartland, joined the MAHHC staff in 2016.