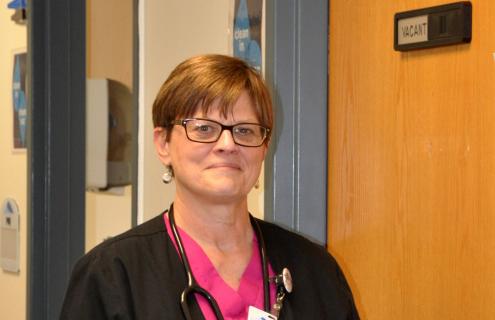 Mt. Ascutney Hospital and Health Center (MAHHC) has announced Linda Richardson, MA, as Employee of the Month for May, 2018. Richardson is a Medical Assistant in our Surgical and Specialty Care Offices.
As a medical assistant, Richardson is responsible for helping patients with their healthcare and daily living needs, working in tandem with a number of surgeons and specialty physicians. She puts patients at ease, gathers clinical information, takes vital signs, obtains specimens and assists the providers. After the patient sees the specialist, Linda plays a key role in following through with the patient's plan of care. Her experience and compassion play an integral part in our clinical team.
According to Practice Director Hannah Bianchi, Richardson is beloved by her patients and respected by her colleagues. "Linda is the glue that holds our practice together," says Bianchi, adding that "she's always looking for ways to make our clinics better for patients and staff, and she anticipates the needs of everyone with whom she interacts. She's our resident 'mom,' always looking after us and guiding us in the right direction. She is a keen listener, and her kindness and compassionate humor are always apparent."
Bianchi says that in addition to her caregiving duties, and her fame as the Hospital's resident holiday decorator, Richardson goes above and beyond as a mentor and teacher to her peers. "Linda's patient and knowledgeable, and also dependable—we know we can always count on her."
Richardson, a resident of Windsor, has been an employee of MAHHC since 1980.