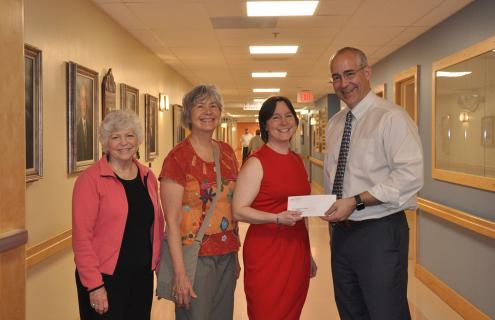 Every year, Doctors' Day celebrates the impact that physicians have on their patients and communities. For this year's occasion, Mt. Ascutney Hospital and Health Center recognized this positive impact by making financial donations on behalf of its medical staff to two community groups: Support and Services at Home (SASH) of Windsor County and the Windsor County Partners Mentoring Program.
SASH of Windsor County, sponsored by Windham and Windsor Housing Trust, supports seniors and those with special needs receiving Medicare who want to live independently. By working to coordinate the resources of social service agencies, SASH provides the necessary support network that permits people to live at home where they feel safe and most comfortable. 
The Windsor County Partners Mentoring Program screens and matches caring adult volunteers with boys and girls between the ages of 7 and 12, to provide intergenerational partnerships. Junior Partners receive positive mentoring from adult role models, while Senior Partners broaden their horizons by forming a friendship with a young person. Many of these mentorships continue right through high school.
"As a physician myself, I know that health is about more than high quality medical care. It also requires positive social interaction and the right support in many aspects of life," said Dr. Joseph Perras, President, CEO, and Chief Medical Officer of MAHHC. "SASH of Windsor County and the Windsor County Partners Mentoring Program help us to ensure healthier people by working to strengthen our entire community. We're delighted to contribute to their work on behalf of our medical staff."
"The ability to live at home and remain independent is crucial to so many people, creating a positive attitude that can have a beneficial effect on physical and mental health," said Denise Dupuis, Windsor SASH Coordinator, who accepted MAHHC's donation on behalf of SASH of Windsor County. "That's why we deeply appreciate this gift, which will aid our efforts to keep our neighbors who need extra help right where they want to be."
Windsor County Partners Mentoring Program Executive Director Jennifer Grant also gave her thanks to MAHHC, saying, "Positive relationships between adult mentors and young people can benefit both people by increasing self-esteem, improving communication skills, and helping participants realize their potential. We're thankful that Mt. Ascutney Hospital and Health Center has recognized our work to create connections and build healthy communities."