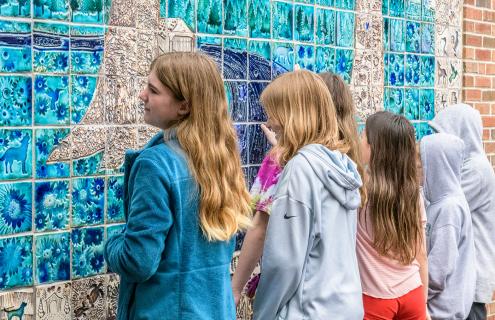 Following months of tile art creation by local students, glazing, kiln firing, and installation, Ottauquechee Health Center (OHC) in Woodstock, Vermont has unveiled a large mosaic mural on the wall facing Pleasant Street. The unveiling took place at a brief public ceremony on May 20 held outside of OHC, which is part of Mt. Ascutney Hospital and Health Center (MAHHC).
More than 30 community members and scores of students from the Prosper Valley and Woodstock Elementary Schools attended the unveiling, which featured opening remarks from MAHHC CEO and Chief Medical Officer Dr. Joseph Perras. Dr. Perras welcomed the attendees and described the mural as a community engagement project involving 247 students and other community members in the creation of decorated ceramic tiles.
The tiles were created in the fall of 2018 under the direction of Robert Rossel, of Symmetry Tile Works in Epping, New Hampshire. A two-minute video of the mural's creation can be viewed on YouTube. 396 hand-decorated tiles now make up a 9-foot by 11-foot mural adjacent to OHC's main entrance.
The project was funded by local sponsors including community members, businesses, and non-profits, and the Trustees and staff of MAHHC. Top level sponsors included Ottauquechee Health Foundation, Laurance and Mary Rockefeller/Woodstock Foundation Fund, Woodstock Pharmacy, Woodstock Rotary Club, Hawk Gate Farm, and Mt. Ascutney Hospital Auxiliary.
Dr. Clare Drebitko, a pediatrician at OHC, spoke next, saying "What a pleasure it is to take care of so many Woodstock-area elementary school students, many of whom added their creativity to this project. And how lovely it will be for both our staff and our patients to be greeted by this mural when they arrive here. Thank you to all of the students for their role in helping to create this amazing mural." Dr. Drebitko formally dedicated a tile sponsored by the OHC staff to Dr. Michael Kilcullen for his 38 years of taking care of the pediatric patients of Woodstock and surrounding towns.
Woodstock Elementary School Principal Maggie Mills delivered remarks about the mural project's impact on the school, and how it had captured the imaginations of the students. She introduced art teachers Brooke Piana and Lisa Kaija, who commented on the student's involvement. Tile artist Robert Rossel then described the process of collaborating with the students, processing the tiles, and preparing them for permanent installation before ordering the mural's unveiling.
Finally, Dr. Perras led the crowd in a round of applause for the students and their work. He noted that while the installation is complete, people can still sponsor tiles to help cover the project's cost while honoring or memorializing someone special. Sponsors can create a lasting legacy, as their gift will be noted on a directory of sponsors and tile makers adjacent to the mural.
To sponsor a tile by credit or debit card, or by PayPal, contact the MAHHC Development Office at (802) 674-7321 or email development@mahhc.org. The cost to sponsor each tile is $100.