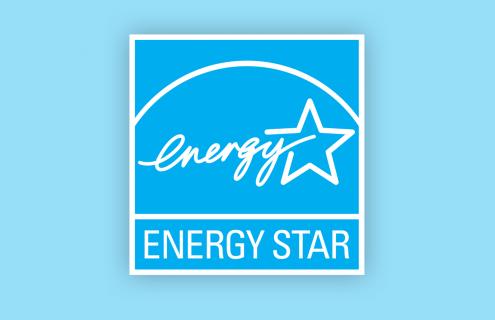 Mt. Ascutney Hospital and Health Center has been honored with U.S. Environmental Protection Agency's (EPA) ENERGY STAR® certification for performing in the top 25 percent of all hospitals nationwide for energy efficiency and meeting strict energy efficiency performance levels set by the EPA.
"Earning the ENERGY STAR certification has been a true team effort, and we're honored to accept this recognition of our work to make Mt. Ascutney Hospital more energy efficient," said Dr. Joseph Perras, CEO and Chief Medical Officer. "Through this achievement, we have demonstrated our commitment to environmental stewardship, lowered our energy costs, and provided a better healing environment for our patients, with our spaces lit and climate-controlled to industry best practices."
After receiving a midlevel ENERGY STAR score of 57 out of 100 four years ago, Mt. Ascutney set about to improve its score through a close collaboration with representatives of Efficiency Vermont. The team developed a hospital-wide plan to address interior and exterior lighting, HVAC systems, and building management controls. The medical center increased its score from 57 to 83, placing it in the top 25 percent of hospitals nationwide, and distinguishing it as the highest scoring ENERGY STAR designated Vermont hospital.
"Efficiency Vermont was honored to provide Mt. Ascutney with technical support and incentives to help them achieve this impressive ENERGY STAR score," said Efficiency Vermont Director Karen Glitman. "The real winners are the patients; lower energy costs contribute to more affordable healthcare. Improved lighting and comfort can support positive health outcomes."
Major projects implemented by Mt. Ascutney Hospital and Health Care Center include:
Upgrading of hospital lighting to more efficient LED technologies for both interior and exterior locations,
Installation of a data analytics software tool that helps contractors and hospital staff implement controls optimization and achieve setback savings. These tools also uncovered additional areas of energy opportunity in the hospital,
Installation of phase 1 of a hospital-wide chilled water system,
Retro-commissioning efforts are ongoing to continue to optimize systems and equipment in the hospital. 
According to Dr. Perras, ensuring energy efficiency is an ongoing effort. "We've made great progress," he explained, "but as we know from our work as healers, technologies and practices continue to advance. We always strive to do better, and we remain committed to a continuing focus on reducing our use of energy. The benefits are enormous, for our organization and for those we serve."
About EPA's ENERGY STAR Certification
ENERGY STAR® was introduced in 1992 as a voluntary, market-based partnership to reduce greenhouse gas emissions through energy efficiency. Today, the ENERGY STAR label can be found on more than 65 different kinds of products, 1.4 million new homes and 20,000 commercial buildings and industrial plants. Over the past 20 years, American families and businesses have saved more than $230 billion on utility bills and prevented more than 1.8 billion metric tons of greenhouse gas emissions.
About Mt. Ascutney Hospital and Health Center
Founded in 1933, Mt. Ascutney Hospital and Health Center (MAHHC) is a not-for-profit community hospital network in Vermont including the critical access-designated Mt. Ascutney Hospital and Historic Homes of Runnemede, a senior residential care campus, in Windsor, as well as the Ottauquechee Health Center in Woodstock. A member of the Dartmouth-Hitchcock Health system, MAHHC provides primary care and a comprehensive suite of specialty services, along with 25 inpatient beds, a therapeutic pool and an acclaimed, fully modernized 10-bed Acute Rehabilitation Center. Mt. Ascutney Hospital and Health Center is dedicated to improving the lives of those it serves and is at the hub of a wide network of community resources that have partnered to cover gaps in services, and improve overall population health. One of the largest employers in the area, MAHHC acknowledges its employees as its greatest asset and has been recognized by the Governor's Office with an Excellence in Worksite Wellness award.
Mt. Ascutney Hospital and Health Center is accredited by the Commission on Accreditation of Rehabilitation Facilities (CARF), is a recent recipient of Best Practice recognition by the National Rural Health Association (NRHA) for health care quality, and is recognized by the American Hospital Association (AHA) as one of the "Most Wired" hospitals for integration of technology to boost clinical performance. The National Committee for Quality Assurance (NCQA) has awarded MAHHC with Level 3 status, the highest level of medical home designation.