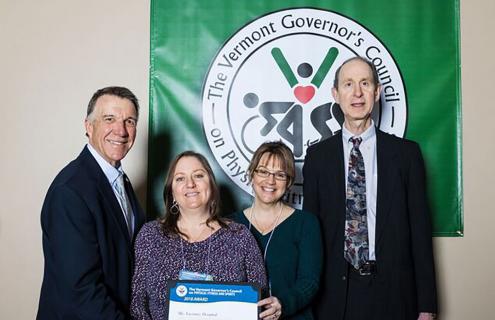 For the seventh consecutive year, Mt. Ascutney Hospital and Health Center (MAHHC) has received an Excellence in Worksite Wellness award from the Governor's Council of Physical Fitness & Sports and the Vermont Department of Health. The Governor's Council is a physical activity promotion and advocacy group comprised of approximately 20 volunteers, appointed by the Governor and representing a broad spectrum of Vermonters. This award recognizes MAHHC's success in creating a workplace that promotes the health and wellness of its employees.
The Governor's Award was presented to MAHHC at the 2018 Worksite Wellness Awards & Conference, which took place at the DoubleTree by Hilton in Burlington on March 21. The conference provided hundreds of Vermont business owners, human resource professionals, and wellness experts the opportunity to learn strategies and best practices in worksite wellness, while sharing experiences and expanding professional networks.
MAHHC has been committed to workplace wellness for many years as evidenced by the comprehensive wellness program it created that addresses five key areas of wellness, including physical, nutritional, emotional, occupational, and financial health. Employees of the Hospital enjoy a smoke-free campus and a cafeteria that features wholesome and nutritious food selections. There's a spacious, private employee gym with a full array of fitness equipment available to serve MAHHC staff members. They can also participate in physical fitness programs, and attend classes for weight loss, exercise, yoga, stress reduction, and smoking cessation, most of which are sponsored by MAHHC and offered on site. The Hospital also offers health risk assessments to enable employees to earn insurance premium discounts and has an on-site United Way "Working Bridges" resource coordinator who helps staff minimize work disruptions, decrease absenteeism, improve financial stability and ultimately increase retention and advancement.
MAHHC's Human Resources Director Jean Martaniuk oversees the program with the assistance of Wellness Program Manager Sandi Dion. Ms. Dion coordinates all employee wellness efforts with the assistance of a dedicated committee of staff members, including providers, benefit providers, and others.
"An intense focus on health and wellness in our community is critical to MAHHC's mission," say CEO and Chief Medical Officer, Joseph Perras, MD, "and the health of our employees is an essential part of that mission. The Governor's Award is a welcome recognition of our success and we are pleased to be honored once again."