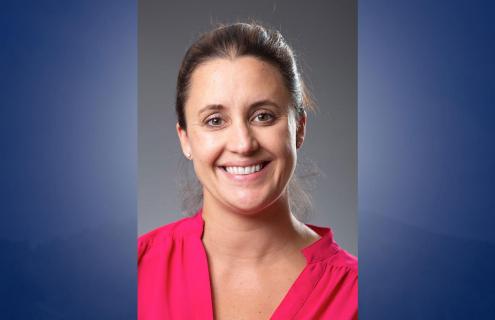 Mt. Ascutney Hospital and Health Center (MAHHC) has introduced Dr. Kimberly Youngren as a new member of the Hospital's medical team focused on medical interventions to address acute and chronic pain.
Dr. Youngren, who is currently accepting new patients by referral at the Pain Clinic in the MAHHC Professional Building, joined the staff in September of 2018. She works with patients who experience head, neck, back, shoulder, knee, abdominal, limb, disc, and spinal pain; post-surgical pain; shingles, arthritis, Multiple Sclerosis, cancer, diabetic neuropathy, and pain stemming from work-related injuries.
"Pain has many causes," says Dr. Youngren, "and each person experiences pain differently, yet the debilitating consequences can be the same, keeping people from living the lives they want to lead. I'm here to work with people as individuals, to assess if a medical intervention makes sense for them, and to provide the most effective solution. I want to help people have a higher quality of life, return to work and the other activities they enjoy." Dr. Youngren explains that she formerly worked as an anesthesiologist, where she often treated patients with pain after surgery. "I always wondered how they did after they left the hospital. In pain management, I'm able to develop a relationship with my patients and follow their progress and improvements. It's by far the most satisfying part of my job."
According to Dr. Youngren, pain management can entail "medication, interventional procedures, physical therapy, physiatry, and alternative therapies" depending on the individual, "to treat the whole person, in order to improve function and quality of life."  Dr. Youngren notes that medical interventions available at MAHHC include nerve blocks which inject local anesthetics to block pain in specific parts of the body, steroid injections, trigger point injections, and radiofrequency treatments, which non-invasively use heat to shut down specific nerves that send pain signals to the brain. She draws attention to nerve blocks and radiofrequency ablation of the knee as an intervention at MAHHC that's not widely available in the region. "These techniques can be helpful both for patients who have total knee replacement, and those who are not candidates for total knee replacement."
While interventional treatment methods are suitable and effective for many patients, Dr. Youngren points out that not every patient benefits from medical intervention. For these patients, she works in collaboration with MAHHC physiatrist Dr. Annice Mason, who provides comprehensive non-surgical and non-opioid treatments for people with musculoskeletal pain.
A 2011 graduate of Ross University School of Medicine with highest honors, Dr. Youngren performed her residency at the University of Connecticut, where she served as chief resident. She has completed a fellowship in acute pain and regional anesthesia at Hartford Hospital in Hartford, Connecticut, and a chronic pain fellowship at Dartmouth-Hitchcock. She is board-certified in both anesthesia and pain, and is a member of the American Society of Anesthesiologists, American Society of Regional Anesthesia and Pain Medicine, Spine Intervention Society, and American Academy of Pain Medicine.
Dr. Joseph Perras, President, CEO, and Chief Medical Officer at MAHHC, calls Dr. Youngren an important addition to the Hospital staff, saying "when you experience pain that interferes with your daily life and long-term goals, it's crucial to have someone on your side who understands what you're going through, and knows how to provide real help. Dr. Youngren has the skill and the passion to transform lives, and we're fortunate to have here transform lives right here for the people we serve. It's my pleasure to welcome her aboard."
Dr. Youngren resides in Lebanon, New Hampshire.