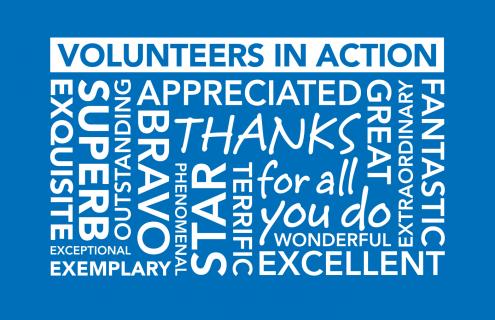 Recently, Mt. Ascutney Hospital and Health Center (MAHHC) hosted a special event to commemorate 20 years of its Windsor-based program Volunteers in Action (ViA), which supports local seniors with an array of volunteer services. Since 2001, ViA has served seven towns including Windsor, West Windsor, Reading, Hartland, and Weathersfield, Vermont, as well as Cornish and Plainfield, New Hampshire.
Continuing an annual tradition, dozens of volunteers, former volunteers, and community members gathered over lunch to commemorate the organization founded by the late Doug Hall and others in 1997. The event also paid tribute to all of the people who have contributed their time and energy to ViA—including 198 current volunteers who logged 33,066 hours this year. The meal for the event included a range of vegetarian and non-vegetarian options and was served by non-ViA volunteers, with cider donated by Riverview Farms.
Speakers from the Hospital included MAHHC CEO and Chief Medical Officer Dr. Joseph Perras, and Director of Community Health Jill Lord, RN, MS, who commended the work of ViA and its role in supporting patients, staff, and the community. Doug Hall's widow, Rosemary, read a letter from Margaret A. Campbell, who worked with him during the early years of ViA. She related, "Why did Doug do it?...I believe that Doug did the work because he was a man of faith—a faith that included the idea of service to others. In addition, Doug believed in community—not community as a geographic place…but community defined as a set of relationships—people caring and sharing. In short, neighbor helping neighbor."
Current ViA Director Martha Zoerheide outlined how Doug Hall's vision has blossomed over the years. Since the beginning, ViA has provided and continues to provide transportation to seniors who need help getting to medical appointments, pharmacies, food stores, and other locations. "From there," said Zoerheide, "it has grown to be the place anyone can call for just about any basic needs problem they may have. This can mean help finding a home for a family or person in need, bringing food to a family that has none, or providing transportation to receive needed services."
Today, the organization collaborates with Senior Solutions and Historic Homes of Runnemede to deliver Meals on Wheels to five towns, serves Community Meals in conjunction with Senior Solutions and MAHHC, and connects volunteers with the Vermont FoodBank's VeggieVanGo produce delivery program.
In addition to thousands of miles on the road each year, ViA helps with local blood drives; runs a knitting group giving away knitted items to those in need; provides referrals to other community organizations including SASH and Senior Solutions; and runs a pen pal effort to create connections between elders and local fifth graders. As a Hospital program, ViA staffs multiple volunteer positions within MAHHC, including greeters, patient advocates, lay chaplains, housekeeping assistants, emergency and purchasing department volunteers, as well as providing volunteers to help at a local community food shelf.
Zoerheide added that "we are very proud that all of the seven towns we serve now have an Aging in Place group," with ViA organizing dedicated neighbors in each town who work to make life easier for elders, and who make sure no one falls through the cracks through access to needed resources and support.
Zoerheide closed her remarks with a thought from Buddha: "A thousand candles can be lighted from a single candle and the life of the candle will not be shortened. Happiness is never decreased by being shared," and she thanked ViA volunteers and supporters for "letting your light shine."
Mt. Ascutney Hospital and Health Center invites individuals, organizations, businesses, churches, and foundations to join Volunteers in Action. For more information, call (802) 674-5971.