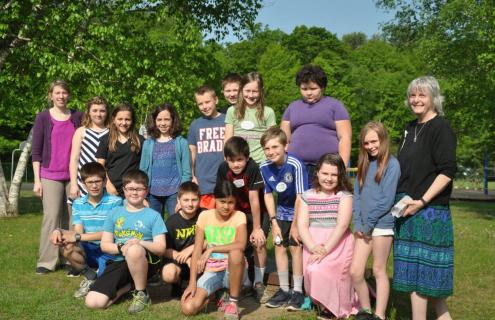 As part of Vermont's statewide public health initiative 3-4-50, Mt. Ascutney Hospital and Health Center (MAHHC) is teaming up with local schools to cultivate an early interest in healthy behaviors among children and their families. MAHHC representatives are making a series of visits to area schools to encourage healthy choices, most recently at Hartland Elementary School in Hartland, Vermont.
On April 6, Andrea Wooding, MPH, an intern from the Dartmouth Institute working at MAHHC, presented to 3rd, 4th, and 5th grade classes at Hartland Elementary School about the dangers of smoking, the benefits of exercise, and the importance of making fruits and vegetables a regular part of a healthy diet. Jill Lord, RN, MS, Director of Community Health, and Wooding returned to the school on Friday, May 25 to pass out free packets of carrot seeds with more health information, and to congratulate students on their commitment to their own health.
The MAHHC presentations are part of the state of Vermont's 3-4-50 program to educate people about three common behaviors that contribute to four preventable, chronic diseases that account for more than 50% of deaths in the state each year. Lack of exercise, poor diet, and tobacco use can have a serious negative impact on the quality of health and lifespan, by resulting in cancer, hypertension and stroke, type 2 diabetes, and lung disease.
According to Lord, the presentations are designed to get young people thinking about the health choices they make, and how those choices can affect them later in life. "Prepackaged foods can be convenient and inexpensive, but their health costs are too high," said Lord. "Our goal is to help young people and their families understand the lifelong benefits of making healthy dietary choices from an early age. We want the children to experience the health benefits of daily exercise, and not smoking. They can actually prevent disease by the choices they make."
Wooding, who holds a Masters in Public Health from the Dartmouth Institute, explained that students were involved in exercise games, coloring activities, and voting to elect their favorite vegetables. "That guided the selection of carrot seed packets which we handed out with instructions for planting, and reminders of their health benefits," she explained. "Growing their own food helps them appreciate the process," said Wooding, "because the more mindful and respectful we are of the things we eat, the more likely we are to eat healthily."
The presentations at Hartland Elementary School were coordinated in part with help from the school's physical education and health teacher, Angela Carpenter-Henderson, who incorporated them into her regular health classes. "Jill and Andrea were a joy to work with," said Carpenter-Henderson, "and a great example of how a spirit of collaboration and open communication can benefit the people all of us serve."
"Mt. Ascutney Hospital is helping to lead an Accountable Community for Health," said Lord. That means bringing together partners from across the healthcare field with state agencies, local nonprofits, and others to integrate services, support prevention efforts like 3-4-50, and bolster education efforts. It's part of our Hospital Strategic Plan, our Windsor HSA Community Collaborative, and it's simply the right thing to do—for kids and our communities." In addition to Hartland, MAHHC has also conducted presentations at schools in Plainfield, Cornish, Windsor, Weathersfield, and Brownsville.