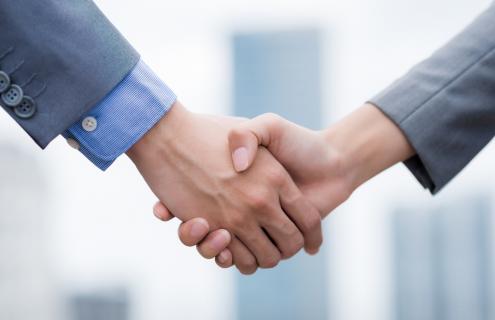 The Governing Boards at Mt. Ascutney Hospital and Health Center (MAHHC) and Dartmouth-Hitchcock (D-H) have approved an affiliation between the two organizations, extending and deepening an already strong relationship between the two health care providers.
The partnership will allow MAHHC and D-H to move toward a more sustainable health system for the region, assuring that patients have access to services locally and seamless care across the Connecticut River Valley. MAHHC and D-H will now begin a regulatory and due-diligence process that will take place over the next several months.
As part of the affiliation, Mt. Ascutney Hospital will retain its status as an independent not-for-profit community hospital, maintaining a local board of trustees responsible for oversight. The Hospital will share resources with D-H to improve governance, operations, finance and clinical programs. Potential benefits include a more integrated clinical communication system between the organizations, more efficient business systems that help reduce administrative costs, and, most importantly, the ability for clinicians to better integrate care for patients.
CEO of Mt. Ascutney Hospital, Kevin W. Donovan, explained that Mt. Ascutney Hospital and Dartmouth-Hitchcock share a common mission of improving the overall health of the communities they serve and finding more efficient ways to deliver health care. "As we seek to create a sustainable future for ourselves and our community, it is imperative that we work together with others to best use resources," stated Donovan. "We look forward to laying the foundation for the long-term success of Mt. Ascutney Hospital and creating a mutually beneficial relationship with Dartmouth-Hitchcock to improve quality care, lower costs, and provide the most appropriate care, close to home."
"This affiliation advances three significant elements of a sustainable health system," said Dartmouth-Hitchcock CEO and President Dr. James N. Weinstein. "It will promote seamless care, locally given, to improve population health; it will enhance the value of that care through integration, convenience, and highest quality services; and it will lower costs by reducing duplication, improving efficiency, and sharing administrative and other back-end functions. Mt. Ascutney Hospital is a fantastic community resource and has been a great partner for Dartmouth-Hitchcock; I'm delighted that we are strengthening our relationship on behalf of the people of the region."
A number of clinical and administrative relationships already exist between Mt. Ascutney Hospital and D-H. MAHHC provides sub-acute and inpatient acute rehabilitation services to patients discharged from D-H. In addition, D-H provides a number of specialty services to patients at Mt. Ascutney Hospital including orthopedics, general surgery and pain management. MAHHC is also a member of the New England Alliance for Health, a D-H based alliance designed to promote shared savings to its members.
About Dartmouth-Hitchcock
DARTMOUTH-HITCHCOCK HEALTH (D-HH), New Hampshire's only academic health system and the state's largest private employer, serves a population of 1.9 million across Northern New England. D-H provides access to more than 2,400 providers in almost every area of medicine, delivering care at its flagship hospital, Dartmouth-Hitchcock Medical Center (DHMC) in Lebanon, NH. DHMC was named in 2019 as the #1 hospital in New Hampshire by U.S. News & World Report, and recognized for high performance in 13 clinical specialties and procedures. Dartmouth-Hitchcock Health also includes the Norris Cotton Cancer Center, one of only 51 NCI-designated Comprehensive Cancer Centers in the nation; the Children's Hospital at Dartmouth-Hitchcock, the state's only children's hospital; affiliated member hospitals in Lebanon, Keene, and New London, NH, and Windsor, VT, and Visiting Nurse and Hospice for Vermont and New Hampshire; and 24 Dartmouth-Hitchcock clinics that provide ambulatory services across New Hampshire and Vermont. The D-H system trains nearly 400 residents and fellows annually, and performs world-class research, in partnership with the Geisel School of Medicine at Dartmouth and the White River Junction VA Medical Center in White River Junction, VT. 
About Mt. Ascutney Hospital and Health Center
Founded in 1933, Mt. Ascutney Hospital and Health Center (MAHHC) is a not-for-profit community hospital network in Vermont including the critical access-designated Mt. Ascutney Hospital and Historic Homes of Runnemede, a senior residential care campus, in Windsor, as well as the Ottauquechee Health Center in Woodstock. A member of the Dartmouth-Hitchcock Health system, MAHHC provides primary care and a comprehensive suite of specialty services, along with 25 inpatient beds, a therapeutic pool and an acclaimed, fully modernized 10-bed Acute Rehabilitation Center. Mt. Ascutney Hospital and Health Center is dedicated to improving the lives of those it serves and is at the hub of a wide network of community resources that have partnered to cover gaps in services, and improve overall population health. One of the largest employers in the area, MAHHC acknowledges its employees as its greatest asset and has been recognized by the Governor's Office with an Excellence in Worksite Wellness award.
Mt. Ascutney Hospital and Health Center is accredited by the Commission on Accreditation of Rehabilitation Facilities (CARF), is a recent recipient of Best Practice recognition by the National Rural Health Association (NRHA) for health care quality, and is recognized by the American Hospital Association (AHA) as one of the "Most Wired" hospitals for integration of technology to boost clinical performance. The National Committee for Quality Assurance (NCQA) has awarded MAHHC with Level 3 status, the highest level of medical home designation.