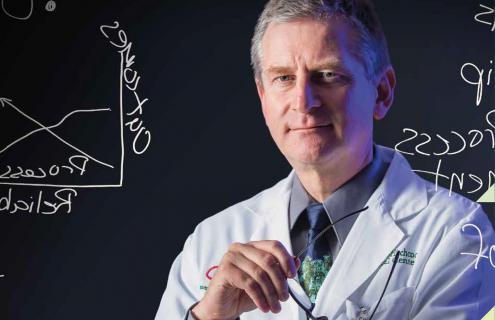 Mt. Ascutney Hospital and Health Center (MAHHC) held its Annual Meeting recently at the Windsor Mansion Inn. In accordance with organizational bylaws, nearly 40 attendees, including Trustees and Members, gathered to nominate and vote for candidates to join the Board of Trustees and to become new Members, who serve as community ambassadors for the Hospital. Senior Leaders from MAHHC were also in attendance.
The keynote speaker was George T. Blike, MD, MHCDS, Chief Quality and Value Officer, Professor of Anesthesiology at the Geisel School of Medicine at Dartmouth.
Dr. Blike has served at Dartmouth-Hitchcock since 1992, where he is currently responsible for the organization's quality, safety, and value initiatives on behalf of 1.9 million patients across northern New England. Dr. Blike spoke on the topics of quality of care and patient safety, describing the Dartmouth-Hitchcock system's successful initiatives to improve patient safety despite the complexities and shifting pressures of the modern health care system.
Other speakers included Dr. Joseph Perras, President, CEO, and Chief Medical Officer at MAHHC, who gave an update on MAHHC performance in 2017, marked by significant improvements in access to primary care, development of a hospital-wide quality dashboard, and continued financial stability. He also discussed ongoing initiatives to integrate MAHHC systems and services with Dartmouth-Hitchcock to better serve local populations, and he outlined MAHHC plans for 2018, which include the addition of cardiology services in Windsor. Trustee Donna Sweaney conducted meeting business, while Member Jessie Frazer-Farnham, Chair of the Nominating Committee, presented nominations for new Members and Trustees.
Members in attendance re-elected three current Trustees including John Tansey and John Gilman of Windsor, and Michael Newbold of Cornish. Pamela Brown of Brownsville was also elected to a three-year term. Alan Keiller of Brownsville resigned as a Dartmouth-Hitchcock representative and was elected to the MAHHC board as a community member. Dartmouth-Hitchcock has appointed Patrick Jordan as a representative to replace Mr. Keiller in that role.
Additionally, David Peckinpaugh was elected as a member of the nominating committee for a three-year term.
Current Members elected for five-year terms include Vivian Carter, Norman Frates, Jr., Yyvonne Frates, Jessie Frazer Farnham, Ronald Jaynes, Nancy Loux, Kathy Marsh, Joseph Palatucci, Dr. Lynn Peterson, Albert Pierce, Harold Pyke, Hank Savelberg, Richard Slusky, and Nida Tansey. Tracy Wyeth was elected as a new Member.
According to Dr. Perras, the Annual Meeting is an invaluable opportunity for MAHHC not only to conduct organizational business, but to meet, catch up, and share ideas. "It's wonderful to get all of these bright, busy people together in one place to spend time working on what unites us," said Dr. Perras, "ensuring safe, high-quality health care for everyone we serve. Mt. Ascutney Hospital is a vital partner in Dartmouth-Hitchcock's work to improve safety for patients across the system. Dr. Blike's talk was a great chance for all of us, including the Members who will spread out into their communities to inform their friends and neighbors, to learn about the progress we're making, and the benefits of collaborating to solve challenges that affect us all." Dr. Perras also expressed his enthusiasm for the 2018 rosters of the Board of Trustees and Members, saying, "the participation of community members is absolutely essential to our mission. I'm gratified to see that such passion for ensuring health and wellness is shared by so many talented, insightful, local people who step up to help us create the healthier communities our neighbors deserve."