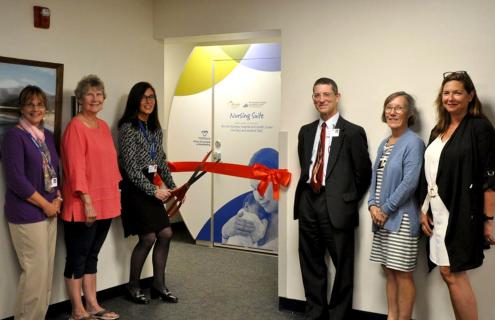 Mt. Ascutney Hospital and Health Center (MAHHC) recently held a public ribbon-cutting ceremony to launch its new private nursing suite designed for breastfeeding or pumping by nursing mothers. The event, held in the Primary Care Clinic off the Main Lobby of Mt. Ascutney Hospital, introduced the Hospital staff and general public to the lactation pod, constructed by leading nursing suite manufacturer Mamava of Burlington, VT. The brightly decorated nursing suite provides a comfortable, friendly, private space for mothers and babies, with occupancy-activated lighting, two benches, a fold-down table, power outlet and USB port, plus ceiling vents and an exhaust fan for comfort.
The ribbon cutting ceremony was introduced by Mt. Ascutney Hospital's Chief Operating Officer, Paul Calandrella, who welcomed attendees and thanked the Mt. Ascutney Hospital Auxiliary and the Medical Staff group for the necessary funding to purchase the unit. Calandrella noted, "This nursing suite is operational today due to the combined efforts of many people, from our Medical Staff contribution to our allies in the Auxiliary who helped raise the capital to make the purchase possible. Thanks also to our Wellness and Facilities team and other folks around the Hospital who teamed up to make this available."
The event also included remarks from Sandi Dion, MAHHC's Wellness Manager; Karen Hill, President of the Mt. Ascutney Hospital Auxiliary; Maggie Moore, Mt. Ascutney Hospital's Medical Staff Vice President, and Beth Sengle, Major Accounts Executive with Mamava, Inc.
"Here at Mt. Ascutney Hospital and Health Center, we want to support breastfeeding by making it as comfortable and convenient as possible for mothers who choose to breastfeed," said Dion. "Our new Mamava Nursing Suite gives moms and babies a private space for nursing and pumping, away from everything else in a cozy, soothing environment."
The Mamava nursing suite is now available for use by patients, visitors, and MAHHC staff.