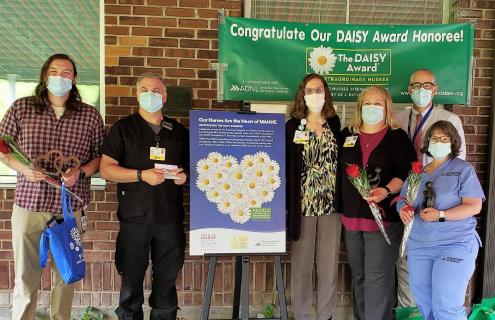 Mt. Ascutney Hospital and Health Center's (MAHHC) celebration of its nursing staff during National Nurses Month in May includes DAISY Awards® and P.E.T.A.L.S. Awards® to deserving nurses, starting this year. Created by the DAISY Foundation™ in 1999, DAISY Awards honor Registered Nurses, while P.E.T.A.L.S. (Professional Extraordinaires That Always Lend Support) Awards honor those who partner with nurses to provide exceptional care, including LPNs, LNAs, and CMAs. Nurses and nursing assistants may be nominated by patients, families, and colleagues. MAHHC created a large poster and disseminated nomination forms to locations throughout MAHHC to encourage people to participate in the nomination process.
This year's inaugural DAISY Award winners are Lauren Greene, RN, and Janet Malcolm, RN.
The DAISY RN Leader for 2021 is Kat Meyer, RN.
P.E.T.A.L.S. Awards were given to Sarah Amoroso, LNA, David Barrows, LPN, and Crikett French, CMA.
Other DAISY Award nominees included Arah Almia, RN, Cori Brodeur, RN, Katrina Burgmeier, RN, Ruth Ferland, RN, Meghan Hoyt, RN, Gisele Martell, RN, Marc Sacco, RN, and Patricia Stern, RN.
Winners were announced on May 12th, 2021, and given special gift bags including their awards. Nominees received pins. Chief Nursing Officer Amy Visser-Lynch, who spoke at the awards ceremony, said "Nursing isn't something everyone can do well, because it takes a fully integrated combination of skill and compassion. Each of the people nominated for the DAISY and P.E.T.A.L.S. Awards know what to do in any given situation. And they know what doing it well, with respect, means to the people in their care." According to Dr. Joseph Perras, Chief Medical Officer, and CEO of MAHHC, the winners and nominees embody the skill and compassion that patients and families count on every day. Dr. Perras added, "Just like last year, 2021 has been designated 'Year of the Nurse' in acknowledgment of nurses' amazing contributions, which we have all seen during the COVID-19 pandemic. We're honored to work alongside them and to learn from them by example. Congratulations to all for a job very well done every day."
About Mt. Ascutney Hospital and Health Center
Founded in 1933, Mt. Ascutney Hospital and Health Center (MAHHC) is a not-for-profit community hospital network in Vermont including the critical access-designated Mt. Ascutney Hospital and Historic Homes of Runnemede, a senior residential care campus, in Windsor, as well as the Ottauquechee Health Center in Woodstock. A member of the Dartmouth-Hitchcock Health system, MAHHC provides primary care and a comprehensive suite of specialty services, along with 25 inpatient beds, a therapeutic pool and an acclaimed, fully modernized 10-bed Acute Rehabilitation Center. Mt. Ascutney Hospital and Health Center is dedicated to improving the lives of those it serves and is at the hub of a wide network of community resources that have partnered to cover gaps in services, and improve overall population health. One of the largest employers in the area, MAHHC acknowledges its employees as its greatest asset and has been recognized by the Governor's Office with an Excellence in Worksite Wellness award.
Mt. Ascutney Hospital and Health Center is accredited by the Commission on Accreditation of Rehabilitation Facilities (CARF), is a recent recipient of Best Practice recognition by the National Rural Health Association (NRHA) for health care quality, and is recognized by the American Hospital Association (AHA) as one of the "Most Wired" hospitals for integration of technology to boost clinical performance. The National Committee for Quality Assurance (NCQA) has awarded MAHHC with Level 3 status, the highest level of medical home designation.