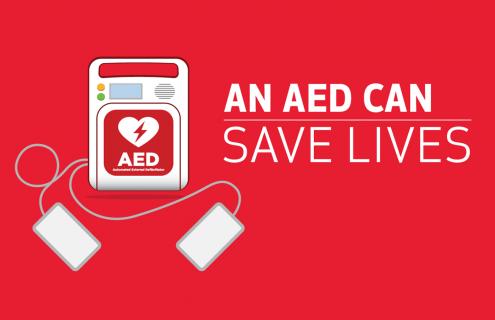 Mt. Ascutney Hospital and Health Center, a not-for-profit Critical Access Hospital located in Windsor, Vermont, has received a $12,500 gift from the Mt. Ascutney Hospital Auxiliary. The donation was presented to the Hospital's President, CEO and Chief Medical Officer, Dr. Joseph Perras, at the Auxiliary's annual appreciation luncheon held in the Hospital's boardroom on June 29. The donation was used to help purchase twelve new Automated External Defibrillators (AEDs), which have been deployed throughout Mt. Ascutney Hospital and its Ottauquechee Health Center in Woodstock, Vermont.
AEDs are portable electronic devices that are designed to automatically diagnose life-threatening heart conditions such as cardiac arrhythmias of ventricular fibrillation, and pulseless ventricular tachycardia, both manifestations of improper electrical activity in the heart. The device can treat these conditions with defibrillation, sending electricity to stop the arrhythmia and reset electrical impulses so the heart can resume beating properly.
According to Dr. Perras, the Auxiliary's donation will cover the majority of the $17,000 cost of the new equipment. "Our Auxiliary represents the deep commitment of our community to the mission of our Hospital, 'to improve the lives of those we serve.' Thanks to the Auxiliary, with their passion and generosity, we can reach farther, do more, and be more effective. We're very lucky to have them."
Karen Hill, President of the Auxiliary, said that the group is gratified to be able to support the Hospital's work in a tangible way. "AEDs will help Mt. Ascutney Hospital's skilled professionals directly save lives. That's what these devices are made to do." Hill explained, "Over the decades, the Auxiliary has contributed to so many programs and technologies to improve care and quality of life for patients. It's especially exciting to help our community acquire equipment that can literally give someone a second chance at life."
The Auxiliary has supported the Hospital for more than 65 years. Its members dedicate time to organizing fundraising events and projects, volunteering at the hospital, and running the gift shop in the main lobby. Throughout its lifetime, the Auxiliary has donated more than $700,000 for projects aimed at ensuring the highest level of patient care. Anyone interested in becoming an Auxiliary member is encouraged to contact the organization at Auxiliary@mahhc.org or call (802) 674-7088.