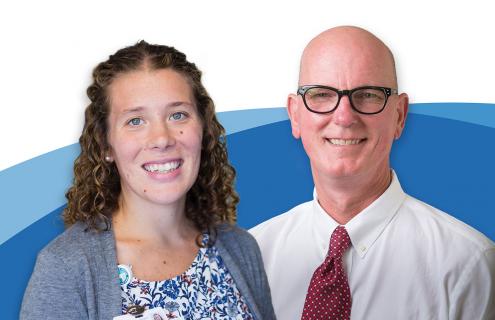 Mt. Ascutney Hospital and Health Center (MAHHC) is pleased to announce that Sammy Horton, MD and Chelsea Curran, FNP-C, have joined the Hospital's team of medical-surgical specialists.
Dr. Horton, a Board-certified gastroenterologist, has extensive experience in the diagnosis and treatment of digestive disorders. A graduate of the University of Texas-Southwestern medical program, Dr. Horton completed his residency at the University of Texas-Southwestern in Dallas and at Dartmouth-Hitchcock Medical Center in Lebanon, NH. He also completed his gastroenterology fellowship at the University of Texas-Southwestern.
Prior to joining the MAHHC surgical team, Dr. Horton managed Brown County Gastroenterology at the Brownwood Regional Medical Center (BRMC) in Brownwood, Texas from 2004 through 2016. He provided a community of 65,000 with comprehensive GI services including EGD, colonoscopy, and flexible sigmoidoscopy. While at BRMC, Dr. Horton served as Chief of Staff in 2016 and Chief of Medicine in 2006. He was also a member of the Medical Executive and Medical Peer Review Committees.
Also joining MAHHC's team of medical-surgical specialists is Chelsea Curran, an experienced Family Nurse Practitioner who will bring a new level of expertise to surgical care at MAHHC. She earned a Masters of Science in Nursing from the University of St. Joseph's, in West Hartford, CT, and her Bachelors of Science in Nursing from Western Connecticut State University, in Danbury. She has worked as a Registered Nurse at Baystate Children's Hospital in Springfield, MA, and as a transport nurse for Dartmouth-Hitchcock Medical Center. Curran is certified by the American Academy of Nurse Practitioners and received the Daisy Award for Extraordinary Nursing Care in 2012, and the Terry Bosworth Outstanding Research Award in 2016.
Dr. Joseph Perras, CEO and Chief Medical Officer at MAHHC called the addition of the two caregivers a significant step forward for the Hospital's med-surgical team and those it serves. "Dr. Horton and Ms. Curran each bring years of experience, and high levels of expertise to their roles here. They make our team and our hospital stronger, which is excellent news for our patients who are assured that they can receive high-quality specialty care, close to home." They join a MAHHC surgical team that includes general surgeons Dr. Catherine Schneider and Dr. Brent White, as well as ophthalmologist Dr. Chris Connor and podiatrist Dr. Jeff King.