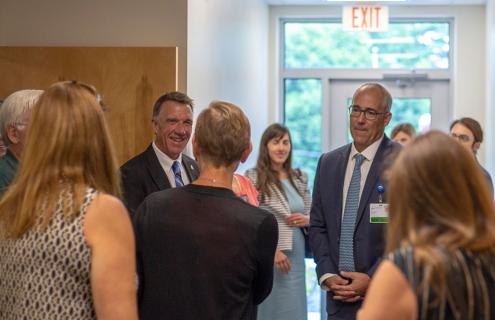 Mt. Ascutney Hospital and Health Center (MAHHC) hosted Vermont Governor Phil Scott, members of his cabinet, and extended cabinet on Monday, July 23 for a lunchtime roundtable discussion about the Hospital's experiences and insights related to healthcare reform and community health initiatives. The Governor and his team also took a tour of the Hospital's recently renovated Acute Rehabilitation Center. In addition to the Governor's team, attendees included Dartmouth-Hitchcock CEO and President Joanne M. Conroy, MD, as well as several Windsor County legislators.
The Governor's visit to Windsor County was part of his administration's ongoing "Capitol for a Day" tour of Vermont towns, to engage with and learn from Vermonters across the state, from all walks of life, on a range of issues. His team's other stops in the town of Windsor included recognition of the Windsor High School Class of 2018, and a "Let's Go Fishing" clinic at the Windsor Recreation Center.
Presenters included MAHHC's President, CEO and Chief Medical Officer, Dr. Joseph Perras, who provided the Governor's team with a brief overview of the Hospital. He explained MAHHC's designation as a Critical Access Hospital, meaning that it meets the criteria to provide critical health care services to a rural area, with reimbursement benefits. Dr. Perras highlighted MAHHC's high occupancy rates compared to many small hospitals, and cited as a strength MAHHC's willingness to pioneer and perfect the integration of technologies, practices, and services as a member of Dartmouth-Hitchcock Health System. He pointed to the successful collaboration of the two institutions on everything from radiology and materials management, to system-wide strategic planning and sharing of medical staff, which he said have had significant benefits for MAHHC efficiency and patient access to high quality care. Dr. Perras said, "All of our services support our goal to be excellent in our primary care mission. We concentrate on what we do well, in order to best serve our communities."
MAHHC Director of Community Health, Jill Lord, RN, kept the focus on community as she spoke about the importance of building community connections, in order to foster better health and wellness for all. "The community is who we are," she said, "and why we are here." She explained that the Hospital's mission extends beyond its exam rooms and surgical suite to where people live and work. "We're collaborating with community partners on numerous levels to achieve success as an Accountable Community for Health," she explained. "As the community's health center, we provide leadership. For instance, we step in to organize efforts when Rachel's Kitchen needs staff and resources to keep serving free meals. We connect kids with dental services in schools. We help organize drug abuse prevention efforts." Lord told Governor Scott that MAHHC's community health goals are determined by the Community Health Needs Assessment, a regular survey of community members to learn their most urgent health needs.
Dr. Perras outlined four main areas of focus for the Hospital, including employee wellness, building a high-quality organization centered on quality of care, patient safety, and organizational readiness; growing clinical service lines; and ensuring sustainability to guarantee care for generations to come. That sustainability will come in part from MAHHC embracing smart healthcare reforms, he said. "We're moving away from the traditional fee for service model of healthcare," explained Dr. Perras, "to a model with predictable, fixed revenues, focused on delivering high-value care." The Hospital is making this transition as part of the OneCare Vermont statewide Accountable Care Organization that includes hospitals, primary care providers, health centers, and agencies.
Governor Scott commented that he was impressed by the scope and depth of services available at a small hospital. He said, "It was extremely valuable to see and learn more about the work being done at Mt. Ascutney Hospital, the critical services it provides its community and its innovation and leadership, particularly, in its inpatient rehab center. As my Administration focuses on enhancing access to care and improving health with a focus on prevention, I appreciate its community-approach to healthcare."
Belinda Needham-Shropshire, MAHHC Director of Rehabilitation Services, led a tour of the Rehabilitation Center at Mt. Ascutney Hospital, remodeled in 2015. Governor Scott and his cabinet were shown the facility's state-of-the-art rehabilitative technology, including an advanced, computer-aided vector gait and safety system designed to support a patient's weight while tracking their movements to help them re-learn balance and walking; an electronic screening system to help patients improve motor skills and reaction time; the Miller Therapeutic Pool for aquatic physical therapy; a cardiac rehabilitation program; kitchen and home environments designed to help people master the activities of daily living; rehab gymnasiums; and an array of specialized rehabilitative therapies.