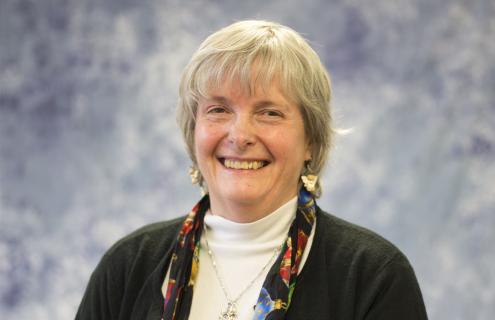 Jill Lord, RN, MS, Director of Community Health at Mt. Ascutney Hospital and Health Center (MAHHC) was named as one of the region's Heroes & Leaders by the regional nonprofit Vital Communities, at the organization's annual banquet recently in Quechee, Vermont at the Quechee Club.
Introduced by MAHHC President, CEO, and Chief Medical Officer Joseph Perras, MD, Lord was one of 12 individuals recognized as "Long-Standing Stewards" who have "dedicated their time, energy, and talents to making this a vital and flourishing community," and who "inspire us with their commitment to this community, their hard work, and their positive impact on this place we love and call home."
Rob Schultz, manager of Vital Communities' Leadership Upper Valley program, which coordinates and benefits from the Heroes & Leaders event noted, "Jill Lord has devoted her career to improving people's lives on an individual basis as an exemplary nurse, hospital-wide for many years as MAHHC's Chief Nursing Officer, and since early 2016, enhancing health and wellness on a broader level as the Director of Community Health. A hospital's mission extends far beyond its physical footprint. Jill is instrumental in forging connections with like-minded organizations to create community partnerships, and reaching out to ensure better health for everyone."
As Director of Community Health, Lord is responsible for fostering population and community health using the Community Health Needs Assessment, ACO, and other quality measures. She leads or participates in a variety of prevention and care management initiatives and programs, leads the MAHHC Ethics Committee, is President of Windsor Area Community Partnership, Program Manager of Blueprint for Health, Chair of the Windsor HSA Community Collaborative, and Board President of the Vermont Nursing Internship Program, which she was instrumental in creating. She is also involved with the Windsor Area Drug Task Force, the PATCH Network, and other community health initiatives. Appointed to the Governor's Blue Ribbon Commission on Nursing in 2011, she is the 2014 Vermont Medical Society Citizen of the Year.
Working in the Upper Valley region for nearly 25 years, Vital Communities is a White River Junction-based nonprofit organization that brings together citizens, organizations, and municipalities to take on issues where an independent voice and regional approach are essential. Leadership Upper Valley, a program of Vital Communities, is designed to educate and engage local leaders to serve their communities across the Upper Valley region.