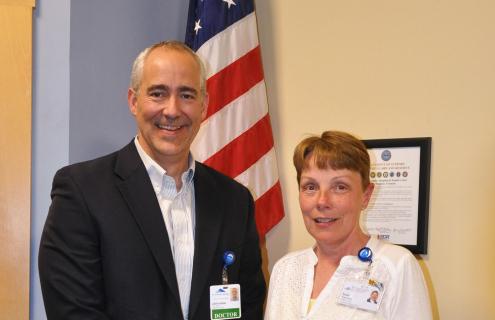 On April 19, Mt. Ascutney Hospital and Health Center (MAHHC) recognized 34 employees who have collectively served the Hospital for more than 535 years. Staff members were honored at a special Employee Service Awards dinner in the Hospital's newly renovated café, where MAHHC President, CEO and Chief Medical Officer Dr. Joseph Perras personally thanked them for their contributions and commitment to the Hospital, its patients and the community.
"The quality of care we provide to our patients is only as good as the quality of the staff who are here to serve them everyday." said Perras. "We thank you for your service, your dedication, and your commitment to always making our mission and vision a reality for our patients every day.
Perras was joined by several department heads and other MAHHC staffers who added to his praise for MAHHC employees.
Staff members honored at the event were: 40 years of service–Jean Martaniuk; 35 years of service–Bonnie Martaniuk; 30 years of service–Betty Fields, Julie Weld, Lisa Wright; 25 years of service–Ellen Goodenough, Lisa Walbridge, Jill Lord, Dr. Steven Smith; 20 years of service–Roberta Lebrun, Barbara O'Toole, Dayle Stillings, Belinda Needham-Shropshire; 15 years of service–Noel Bactad, Lyle Coffran, Martha Colburn, Richard Warner; 10 years of service–Alonzo Tapley, Ann Lutter, Anel Sirois, Janice Chastenay, Heather Stearns, Sharon Laskevich, Dr. Heidi Cruz, Geneva Preble, Tammy Wright, Nancy Ashey, Linda Hazard, Katherine Leary, Cory Healy, Jean Leete, Ashley Olney, and Stephen Usher.