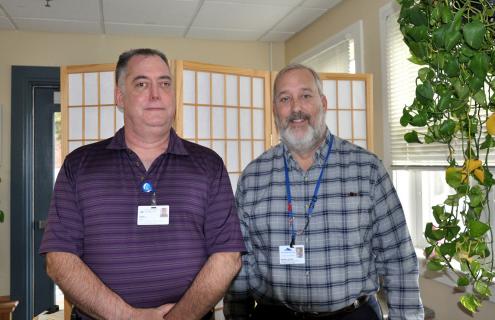 Mt. Ascutney Hospital and Health Center (MAHHC) has announced that Michael Leathe and Mike Lane have been selected as Team of the Month for January, 2018. Both Leathe and Lane are Clinical Application Analysts in the Hospital's Information Technology department.
As Clinical Technology Analysts, Leathe and Lane are responsible for designing and implementing information systems to optimize organizational efficiency at MAHHC. They also serve as troubleshooters, solving problems and providing ongoing training to fellow staff members.
According to Supervisor Jason Bean, Leathe and Lane shine in their interactions with the rest of the staff. "Their assistance has been invaluable," says Bean, explaining that "they are very good teachers, and incredibly patient. They are always willing to answer all questions with a smile on their faces and they never make you feel like your questions are dumb. If they can't answer a question, they'll research the matter and get back to you with a solution. They are both great assets to maintaining high professional standards at the hospital."
Leathe, a resident of West Windsor, VT, has been an employee of MAHHC since 2009. Lane, who lives in North Hartland, VT, joined the staff in 2013.