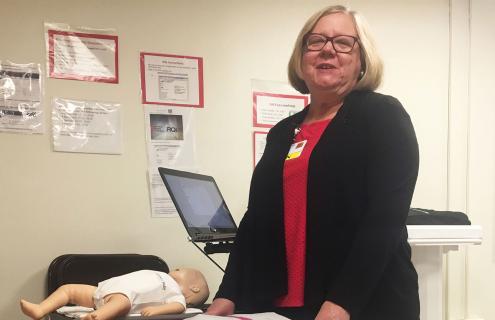 Mt. Ascutney Hospital and Health Center (MAHHC) has announced the selection of Robin Hakala, BS, MSN, RN, as Employee of the Month for October, 2018. Hakala is an Educator in the MAHHC Department of Education.
Hakala is responsible for administering orientation for new staff, as well as participating in staff competency days that provide clinical education to nursing staff, implementation of the Hospital's Resuscitation Quality Improvement (RQI) system to maintain CPR skills, and classes presented by the Education Department. She has also assisted the MAHHC Cardiac Rehabilitation Department with its certification process, working on policies and procedures.
Hakala's supervisor, Amy Visser-Lynch, Director of Staff Education, says that Hakala is "the glue that holds the Education Department together. She gives it her all," says Visser-Lynch, "and she continues to smile through whatever is directed her way. Robin is a dedicated and caring nurse, and an asset to Mt. Ascutney Hospital and Health Center."
Hakala spent six years as a special education teacher before returning to school to become a nurse. Over a 33-year career, she has worked as a school nurse, staff nurse in Medical-Surgical units, Labor and Delivery, Newborn Nursery, and Oncology. She also served eight years in the United States Air Force as an officer.
Hakala, from Charlestown, New Hampshire, has been an MAHHC employee since January, 2016.