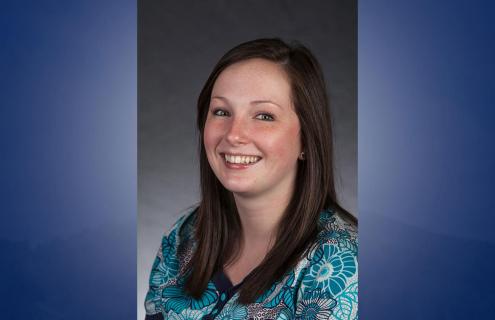 Mt. Ascutney Hospital and Health Center (MAHHC) has announced the selection of Sara Gosselin, RT (R) (M) (CT) ARRT, as Employee of the Month for June, 2018. Gosselin serves as MAHHC Radiology Supervisor.
As Radiology Supervisor, Gosselin directs and coordinates radiology and diagnostic imaging procedures, and oversees staff in the operation of imaging equipment, while supporting patient care by resolving radiology issues with staff members and working to maintain quality assurance in a safe environment.
Terri DeMond, Director of Ancillary Services, says that Gosselin's patients and peers say "her smile and uplifting personality bring a fresh ray of sunshine to the Radiography Department each morning." DeMond and peers credit Gosselin's approachable personality, and her willingness to listen and assist others, even off the clock, as reasons for her success. She also points to Gosselin's ability as a health educator, saying, "Sara's eagerness to train, motivate, and encourage students and staff in mammography, radiography, and computed tomography provides a comfortable and nourishing learning environment."
Gosselin is also a strong advocate for women to seek annual mammograms, for early detection of breast cancer. "She is known for her compassion and empathy that comforts patients." says DeMond. She has also volunteered to raise awareness and funds for breast cancer education, research, prevention, treatment, and support as a co-organizer of National Denim Day at MAHHC.
Gosselin, who is a resident of Hartland, has been an MAHHC employee since February 2010.