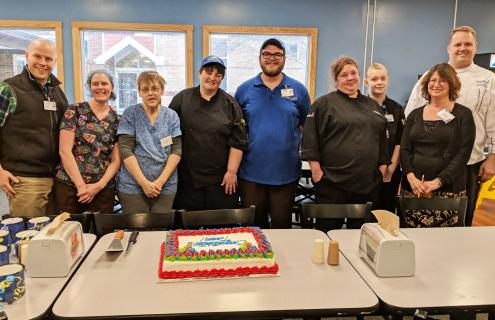 Mt. Ascutney Hospital and Health Center (MAHHC) has announced that the entire Nutrition Services Department at Mt. Ascutney Hospital and Health Center has earned the honor of Team of the Month for March 2018. The Nutrition Services Department provides healthy meals to patients, employees, and visitors 365 days a year.
The dieticians, servers, cooks, dishwashers, and others of the Nutrition Services Department are responsible for designing, creating and delivering meals to patients based on individualized meal plans, as well as keeping the Hospital cafeteria service available to employees and visitors every day. Their skill and dedication were recently put to the test as MAHHC engaged in an extensive reconstruction project to upgrade the Hospital Café.
According to Dr. Joseph Perras, CEO and Chief Medical Officer at MAHHC, "Our Nutrition Services professionals fulfill their roles with pride and dedication no matter what's going on around them. When we saw their continued focus and good spirits in the midst of a challenging remodel, the choice for Team of the Month was obvious. They all deserve enormous credit for keeping an essential Hospital service operating smoothly as they ran delivery services through a temporary space during improvements." Dr. Perras explained, "All meals were served to our patients without disruption and a variety of menu options continued to be offered to staff and visitors.
Improvements were necessary to provide better flow of customer traffic, faster service, better lighting, and improvements in ventilation and energy efficiency. The entire project timeline extended from October 28 through the week of December 11. "With a bright, new, upgraded space", says Dr. Perras, "our Nutrition Services staff will continue to do great work in a great environment. Thanks to the entire team."