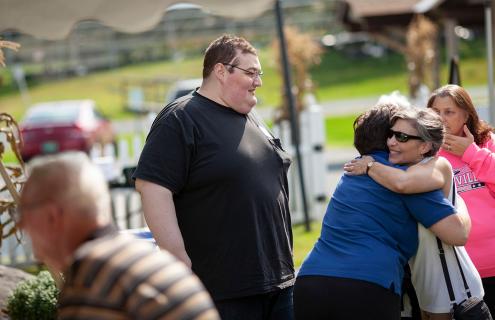 Mt. Ascutney Hospital and Health Center (MAHHC) welcomed back former patients and their families to the 26th annual Rehabilitation Reunion held in the courtyard of the hospital's Rehabilitation Center on Wednesday, September 20. The gathering was part of MAHHC's celebration of National Rehabilitation Awareness Week, from September 16-22.
Dozens returned for the afternoon event, which each year reunites Rehabilitation Center alumni with each other and staff members who aided them in the recovery of strength, coordination, and mobility following injuries, surgery, or illness. MAHHC hospital staff were present for the gathering, and food and refreshments were served.
The event was opened by Director of Rehabilitation Services Belinda Needham-Shropshire, who introduced the day's theme of resilience. She described resilience as the heart of rehabilitation care and affirmed that the Hospital would continue to support patients beyond their acute stay, throughout their lives. "Whatever happened to you," she said, "you have to decide to get back up, and not be beaten down by that event." She also pointed to the resilience of the staff, who meet challenges with optimism and ingenuity every day. "This is a day for staff, patients, and family members to realize that we travel this journey together. The journey of life is challenging, and resilience is something we need to remember every day." She pointed out that in attendance at the event were four physiatrists and rehabilitation physicians, which she called "four more than most hospitals could count in big cities," let alone Vermont.
Other speakers included Dr. Maria Padin, Chief Medical Officer of Dartmouth-Hitchcock Medical Center (DHMC), who oversees coordination of care across the system, which includes DHMC, MAHHC, Alice Peck Day Hospital, Visiting Nurse Alliance, New London Hospital, and Cheshire Medical Center. In her remarks, Dr. Padin congratulated the Center for its success on behalf of the senior leadership of Dartmouth-Hitchcock. "We want to thank you for choosing us as partners in your care," she said to the attendees, calling the Rehabilitation Center "a place of choice for many of our patients when they need rehab services. Today we celebrate with you, we honor your perseverance, and the dedication you have had to overcoming the suffering of the unexpected." She connected the Center's focus on quality and compassion with her own personal experience with rehabilitation following a traumatic brain injury experienced by her husband. "It changes your life forever," she said, "but it is the work of the team of care providers, and the support of family that moves us in a different direction."
The day's keynote address was given by John Fenley, a former patient who rehabilitated at the Center following multiple brain surgeries. He said, "this is really a beautiful place to heal in. We've all been through a lot, and we're all recovering. I feel blessed to see all the faces of the people who helped me get up and walk again." These remarks were followed by group sharing, with a microphone passed around for people to relate their experiences.
This year's Rehabilitation Reunion drew statewide media coverage, with WCAX-TV reporter Adam Sullivan on hand to interview patents and staff members for a segment that aired on that evening's newscast.
The Rehabilitation Center at Mt. Ascutney Hospital is the only acute rehabilitation program accredited by the Commission on Accreditation of Rehabilitation Facilities (CARF) in Northern New England, and one of only two acute rehabilitation programs in Vermont, offering advanced, patient-centered services in an accessible facility designed for comfort, with 10 private patient rooms. Remodeled in 2015, the Rehabilitation Center is a 14,800 square foot facility that includes state-of-the-art diagnostic and treatment tools, a fully equipped rehabilitation gym, and a dedicated dining space. The Center also includes a transitional suite and a therapeutic workshop where patients can practice the necessary skills of daily living before returning home.