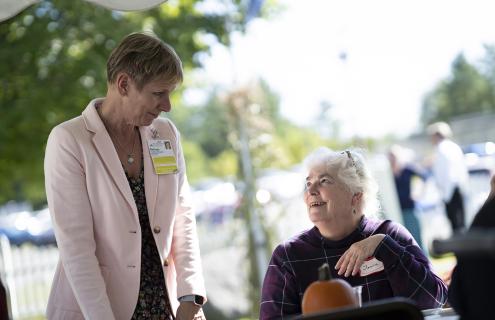 On Wednesday September 18, Mt. Ascutney Hospital and Health Center (MAHHC) hosted dozens of former patients and their families at the 27th annual Rehabilitation Reunion. The gathering was held in the Rehabilitation Center's courtyard and was timed to coincide with the Hospital's celebration of National Rehabilitation Awareness Week, from September 16-22.
Each year, the Rehabilitation Center reunites former patients and staff members who aided them in the recovery of strength, coordination, and mobility following injuries, surgery, or illness. MAHHC hospital staff were present for the gathering, and food and refreshments were served.
Director of Rehabilitation Services Belinda Needham-Shropshire welcomed attendees, saying "for Rehabilitation Awareness Week, some organizations have an awareness day, or hold a fundraiser. We want to celebrate with you. You're the reason we're here." She called rehabilitation a journey that often continues after a patient has left the Rehabilitation Center. She acknowledged that some attendees are still on individual journeys, living with disabilities, but added that "when we're all here, we're all the same." Needham-Shropshire credited the Rehabilitation staff who make recoveries possible.
Other featured speakers included Mt. Ascutney Hospital's President, CEO, and Chief Medical Officer, Dr. Joseph Perras, who called the reunion an event that "reminds me why I'm a doctor first, and an administrator second. Today while giving a tour, I saw a former patient I had cared for at a difficult time for him. He also remembered me, and that connection was a great reminder to me of why we do the work we do. Administrators spend a lot of time in meetings, dealing with schedules and staffing, but when it gets to the end of it, we're here to address your challenges and get you back on your feet." Speaking of the Rehabilitation Center, Dr. Perras said that when he gives tours, "people are amazed at the facility we have; it's really a remarkable resource for Windsor County, the state, and beyond. We draw patients from all over New England for our rehabilitation services, and much of that is due to the bedside interaction between nurse, therapists, housekeepers, techs, and our patients. It is an amazing experience watching the way our providers display true teamwork."
Former patient Charles Gottlieb gave the keynote address, saying "everyone has a story. Mine is that I was diagnosed with Guillain-Barre Syndrome," a rare disorder in which the body's immune system attacks the nerves. "I was totally paralyzed," he explained. Following nine days of treatment at Dartmouth-Hitchcock Medical Center, he came to MAHHC. After four weeks of rigorous therapy, he was able to leave with a walker, and today is back on his feet. "This place literally saved my life," he said. "I saw God's face in a lot of people along this journey," he added, "but none more than here."  Gottlieb asked his audience to stay physically fit, saying 'if you're in good physical shape and something like this crosses your path, you'll be in much better condition to deal with it."
Hospital Chaplain and caregiver Laura Cadmus also spoke, saying "this is all about relationships. It's remarkable that people and their families would return to gather at a hospital reunion, year after year. People want to go home from the hospital. But you return, because what really matters are the connections, and conversations. On behalf of my fellow caregivers, you all matter to us deeply. We carry you with us." She called it a privilege to "care for you and work with you so that you feel restored and have hope as you walk into the rest of your life."
Following her remarks, a microphone was passed through the audience for others to share their experiences and express their gratitude. The staff offered tours of the facility, and numerous raffle prizes were awarded to attendees via a random drawing.