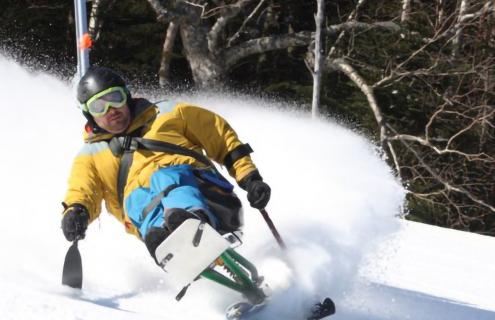 The Rehabilitation Center Courtyard at Mt. Ascutney Hospital and Health Center (MAHHC) will be the site of this year's Adaptive Equipment Demo, a demonstration of adaptive sports equipment and showcase for year-round programs from Vermont Adaptive Ski & Sports. The event takes place on Wednesday, September 5, 2018, from 11:00 am until 3:00 pm. Current and former MAHHC patients, family members, staff members, and the general public are invited to attend.
The demonstrations will include sporting gear adapted to help people who experience motor skill and perceptual disabilities to engage in a full range of sporting activities, from specially designed bicycles and watercraft to skis and snowboards. Representatives from Vermont Adaptive Ski & Sports will also be on hand to explain their programming that gets people outside in every season to exercise and compete. Programs include skiing, snowboarding, cycling, kayaking, canoeing, sailing, rock climbing, hiking, tennis, beeper baseball, EcoAble Adventures environmental programs, custom sports adventures and more.
Rehabilitation Center Recreational Therapist Michael Denmeade says that therapeutic recreation can improve the health and quality of life for people who experience a disability. "It benefits physical health by keeping people active while boosting mental and emotional health by helping people stay engaged in the activities they love. Adaptive equipment like that offered by Vermont Adaptive Ski & Sports, combined with a patient's determination, extends what's possible for the people we serve."
Belinda Needham-Shropshire, MAHHC Director of Rehabilitation Services, calls Vermont Adaptive Ski & Sports an important partner for the Rehabilitation Center and its patients. "We've seen how the tools they provide can transform lives, with the right training," says Needham-Shropshire. "It's why werre proud to sponsor the Long Trail Ride, the VT 100 Endurance Race and more. And we're delighted to host them once again to show off their innovative, life-changing technology and programs."
For more information about the September 5 event, contact Mike Denmeade at (802) 674-7293 or Michael.denmeade@mahhc.org.