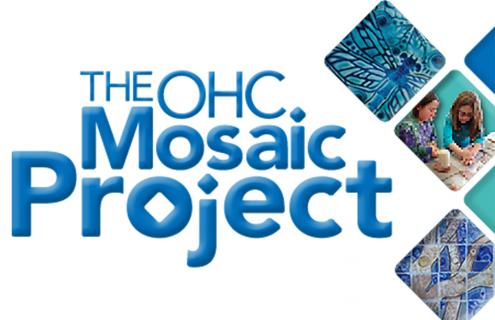 This October, Mt. Ascutney Hospital and Health Center (MAHHC) is inviting the community to participate in The OHC Mosaic Project, a tile-making event to create a beautiful mural for the exterior wall of the Ottauquechee Health Center (OHC) in Woodstock, Vermont. The event will be hosted by the Woodstock Elementary School, and tile-making will take place October 24-27, 2018.
"We're inviting people to decorate a tile, sponsor a tile, or both," said Charles Clement, Director of Development for MAHHC. "The goal is to create a 9' by 11' mural that will add color and life to the exterior of OHC and be a tribute to our community."
Tile-making will be open to Woodstock Elementary School students and Prosper Valley School students at no cost.  Members of the general public can sponsor tile(s) for $100 each to help cover the cost of the project. Sponsors are invited to join in the tile-making if they wish. All tiles will be decorated during the event, then dried, glazed, and fired in preparation for installation at OHC in May of 2019. Tile artist Robert Rossel of Symmetry Tile Works in Epping, New Hampshire, a former member of the New Hampshire State Council on the Arts, will be in residence in the Art classroom at Woodstock Elementary School during the event to oversee tile creation. Participants will be given raw clay tiles with basic designs that they may personalize by adding texture and select carving.
According to Maggie Mills, Principal at Woodstock Elementary School, "The OHC Mosaic Project is a great opportunity for our students to learn from an accomplished artist while creating something beautiful for their community.  And I'm pleased that [MAHHC] welcomed Prosper Valley students into the project when that school had to close temporarily."
Those seeking more details on the project can contact Charles Clement at (802) 674-7321 or email mahdev@mahhc.org. Those who wish to sponsor tiles for The OHC Mosaic Project can make their payment by credit or debit card at (802) 674-7088.