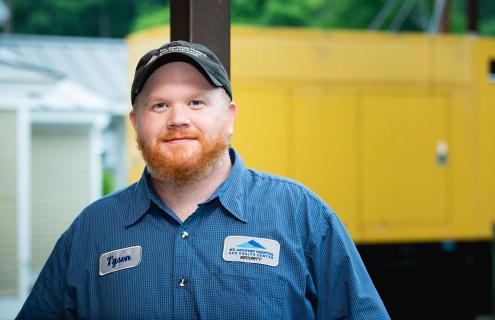 Mt. Ascutney Hospital and Health Center (MAHHC) has announced the appointment of Tyson Taft to the position of Director of Plant Operations. Taft succeeds Joseph Martaniuk, who directed Plant Operations at MAHHC for the previous 25 years.
In his new role, Taft becomes a member of the organizational leadership team and assumes responsibility for directing the maintenance, safety, and security of the Hospital's owned or leased buildings, grounds, telecommunications, security, HVAC systems and other physical plant operations. He manages the planning and coordination of all minor and major repairs, renovations, and new construction projects at the Windsor and Woodstock facilities. Tyson reports to Paul Calandrella, Chief Operating Officer.
Outgoing Director of Plant Operations Joe Martaniuk remarked, "Tyson understands that operating a hospital is an intensely challenging experience and that quality care depends on everyone performing their responsibilities with the utmost care, accuracy and professionalism. We have an extraordinary staff of medical experts to serve our community. But their expertise can only be fully utilized if the physical plant in which they practice is operating flawlessly. Like any medical practitioner, Tyson understands that focus and commitment to the patient, and respect for staff, leads to improving the lives of those we serve."
MAHHC Chief Operating Officer Paul Calandrella commented, "Taft has a comprehensive understanding of our facilities and mechanical systems. That along with his energy and commitment to MAHHC will ensure that our physical plant is always capable of meeting the expanding challenges of health care."
A resident of Bellows Falls, Vermont, Taft has been an employee of MAHHC since 2016.