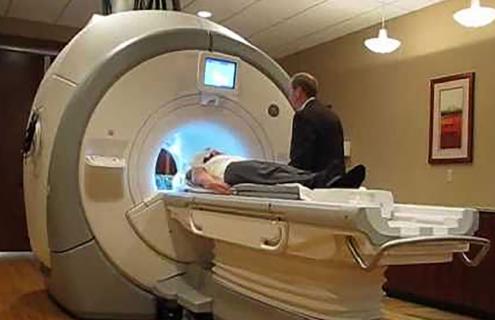 Mt. Ascutney Hospital and Health Center (MAHHC) has announced the addition of a wide-bore Espree 1.5 Tesla Magnetic Resonance Imaging (MRI) scanner. The unit will be available on-site at the Hospital campus in Windsor, Vermont every other Monday starting January 14, 2019. The wide-bore MRI will join the closed-bore MRI, which is at MAHHC every Thursday.
MRI units generate three-dimensional images of the body's interior without radiation and are useful in detecting and diagnosing an array of medical conditions. The new wide-bore unit is designed to accommodate larger patients and those who may experience anxiety or claustrophobia with traditional, narrower MRI units. The system features a 27.5 inch diameter entry point. This leaves fifteen inches to seventeen inches from the tip of one's nose to the top of the scanner as compared to traditional models, which provide eight inches to ten inches of clearance.
In addition to extra space and greater comfort, the unit marks a significant advance in image quality when compared to other "open" MRI systems. At 1.5 teslas in magnetic field strength, the wide-bore Espree unit is markedly more powerful than "open" MRIs at 0.3-0.7 teslas. The increased field strength results in more highly detailed images. A "tesla" is a unit of magnetic flux density in the meter-kilogram-second system.
According to Dr. Joseph Perras, President, CEO, and Chief Medical Officer at MAHHC, the new wide-bore MRI expands the Hospital's clinical capabilities while offering greater convenience for many patients. "MRIs are a powerful diagnostic tool," he said, "but two thirds of adults in the U.S. are overweight, making MRIs a challenge for many individuals. Many other people get anxious in confined spaces. Now we can offer high-quality scans in greater comfort right here in Windsor, so local people can get the answers they need without having to travel. Our conventional unit has a weight limit of 350 pounds, while our new wide-bore unit can accommodate up to a 550-pound weight limit, with more than a foot of headroom. We can scan faster and achieve enhanced image quality, which allows our clinicians to diagnose with increased confidence."
Patients interested in wide-bore imaging should discuss their needs with their health care provider. When setting up their appointment for their MRI at MAHHC, patients can request the wide-bore unit.