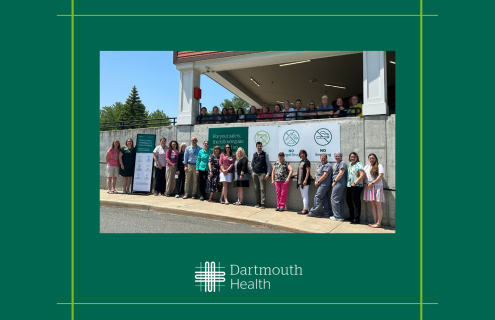 At Dartmouth Health, we have long been committed to fostering a culture of healing in all our hospitals, with greater protections against violent acts, threats or behaviors toward our staff, patients and visitors.
Joanne M. Conroy, MD, chair-elect of the AHA board of trustees and CEO and president of Dartmouth Health
Dartmouth Health and its member hospitals are observing the American Hospital Association's (AHA) Hospitals Against Violence #HAVhope initiative on June 2, 2023, to bring awareness of the need to end workplace violence in hospitals and health systems as well as violence in local communities.
"At Dartmouth Health, we have long been committed to fostering a culture of healing in all our hospitals, with greater protections against violent acts, threats or behaviors toward our staff, patients and visitors," said Joanne M. Conroy, MD, chair-elect of the AHA board of trustees and CEO and president of Dartmouth Health. "We are seeing an alarming rise in violence in our culture, and sadly, hospitals are not immune. AHA's Hospitals Against Violence Initiative gives us a framework for building a safer workplace and community for all and mitigating the risk of violence. As CEO and president of Dartmouth Health and chair-elect of AHA's board, I'm proud that we are supporting this effort."
Conroy recently discussed what hospitals can do to protect healthcare workers with her counterparts from the University of Vermont Health Network and MaineHealth: This content is cleared for use by media outlets on all broadcast and digital platforms.
Today, Mt. Ascutney Hospital and Health Center (MAHHC) in Windsor, Vermont unveiled a 13-foot sign over the concrete retaining wall near its emergency department entrance as part of its comprehensive internal and external signage installed in its Windsor and Woodstock locations detailing its zero-tolerance policy for physical assaults, threatening behavior, weapons, abusive language, sexual harassment or illegal drugs on the premises.
"We will do everything in our power to protect our hospital employees, who are already working long hours, often sacrificing their days, nights and weekends to care for our patients and keep our communities healthy," said MAHHC CEO and Chief Medical Officer Joseph L. Perras, MD. "We have seen an increase in violence at MAHHC and in healthcare settings across the country, which worsened over the course of the COVID-19 pandemic."
At Dartmouth Health, workplace violence was the fifth most common cause of workplace injury in 2022, with nurses as the most impacted occupational group.
"We address each instance of violence with a global, multi-disciplinary approach," said Rich Mello, director of security for Dartmouth Health. "Each incident is reviewed on a case-by-case basis. For a patient who receives outpatient services, an act of violence may result in being dismissed from the system, depending on the event. It may also result in a 'behavior contract' or note in the chart that security must be present for future appointments. For an inpatient case, we cannot summarily dismiss a patient from care. Therefore, we may institute other responses, such as a round-the-clock security presence. For severe incidents of patients assaulting our staff, we will seek prosecution."
Dartmouth Health also offers workplace violence prevention training for its employees called Awareness Vigilance Avoidance Defense Escape (AVADE) training. And a workplace violence committee convenes regularly to review incidents, create response strategies and analyze trends.
According to the American Hospital Association, a recent study found that about 44% of nurses reported experiencing physical violence and 68% reported experiencing verbal abuse during the pandemic.
The AHA also reports workplace violence prevention initiatives at United States hospitals and health systems increased from about 47% in 2016 to about 62% percent in 2021. Similarly, hospitals and health systems launched more community violence prevention initiatives, from about 10% to about 13% in the same time period.
Workplace violence in a healthcare setting can have severe consequences for the entire healthcare system. In addition to physical and psychological injury to healthcare workers, workplace violence and intimidation makes it more difficult for nurses, doctors and other clinical staff to provide attentive, quality care for their patients when they are afraid for their personal safety, distracted by disruptive patients or traumatized from prior violent interactions. Violent incidents also take up valuable hospital resources, reduce productivity and can delay urgently needed care for other patients.
This week in Vermont, Gov. Phil Scott signed a workplace violence bill, S.36, to better protect the state's healthcare workers.
At the federal level, the American Hospital Association is advocating for the passage of the Safety from Violence for Healthcare Employees (SAVE) Act, which would give healthcare workers the same legal protections against assault and intimidation as flight crews and airport workers.
For more information about the Hospitals Against Violence initiative, visit AHA's #HAVhope Friday: Day of Awareness website.
About Dartmouth Health
Dartmouth Health, New Hampshire's only academic health system and the state's largest private employer, serves patients across northern New England. Dartmouth Health provides access to more than 2,000 providers in almost every area of medicine, delivering care at its flagship hospital, Dartmouth Hitchcock Medical Center (DHMC) in Lebanon, NH, as well as across its wide network of hospitals, clinics and care facilities. DHMC is consistently named the #1 hospital in New Hampshire by U.S. News & World Report, and recognized for high performance in numerous clinical specialties and procedures. Dartmouth Health includes Dartmouth Cancer Center, one of only 54 National Cancer Institute-designated Comprehensive Cancer Centers in the nation, and the only such center in northern New England; Dartmouth Health Children's, which includes Children's Hospital at Dartmouth Hitchcock Medical Center, the state's only children's hospital, and multiple clinic locations around the region; member hospitals in Lebanon, Keene and New London, NH, and Bennington and Windsor, VT; Visiting Nurse and Hospice for Vermont and New Hampshire; and more than 24 clinics that provide ambulatory services across New Hampshire and Vermont. Through its historical partnership with Dartmouth and the Geisel School of Medicine, Dartmouth Health trains nearly 400 medical residents and fellows annually, and performs cutting-edge research and clinical trials recognized across the globe with Geisel and the White River Junction VA Medical Center in White River Junction, VT. Dartmouth Health and its more than 13,000 employees are deeply committed to serving the healthcare needs of everyone in our communities, and to providing each of our patients with exceptional, personal care.