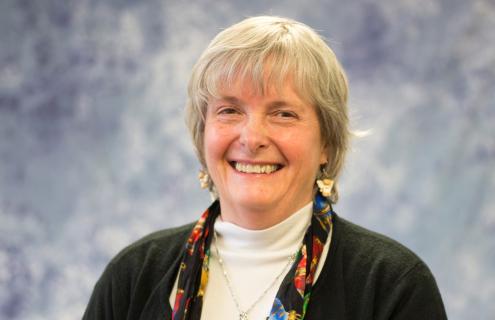 For her work to create systemic improvements in care for people with Substance Use Disorders, Jill Lord, Mt. Ascutney Hospital and Health Center's (MAHHC) Director of Community Health was awarded a Certificate of Excellence at Turning Point Recovery Center of Springfield, Vermont's first annual Recovery Gala. The gala was held virtually in September of 2020 to celebrate peers in the professional community. Affiliated with the Vermont Recovery Center as a 501(c)(3) non-profit organization, Turning Point is a peer-based network of support for people affected by any kind of Substance Use Disorder.
Turning Point of Springfield Executive Director Michael Johnson said, "Among many other things, Jill and her colleagues at Mt. Ascutney Hospital and Health Center have been champions for prevention, treatment, and recovery from Substance Use Disorder."
According to Johnson, MAHHC was the first hospital that welcomed Turning Point Recovery Center Recovery Coaches in the Emergency Department (ED) program, where peer Recovery Coaches meet and follow up with any ED patient experiencing substance-related issues. He said, "Jill, specifically, was a driving force in getting this project off the ground and provided ongoing support to ensure its success.
Johnson added that Lord leads the Community Health Improvement Plan, which supports several workgroups that attempt to improve community health needs. One of these is the Substance Misuse workgroup. Jill also leads the Prevent Opiate Overdose Deaths initiative, which is facilitating cross-sector partnerships with novel approaches to overdose prevention, response, treatment, and recovery. "Through these and other approaches," he said, "Jill has demonstrated her sincere caring and also her tenacious resolve to make a positive impact. We are grateful to Jill and MAHHC for their steadfast commitment to the health and wellbeing of our community."
As Director of Community Health, Lord is responsible for fostering population and community health using the Community Health Needs Assessment, ACO, and other Quality measures to identify needs and benchmark progress. She holds an MS in Human Services Administration from New Hampshire College in Manchester, New Hampshire, and received a BSN from the University of Vermont in Burlington, Vermont. Ms. Lord has been a nurse for over 40 years and was Chief Nursing Officer and Director of Patient Care Services for the Hospital for nearly 25 years prior to her current position. In September 2011, she was appointed to the Governor's Blue Ribbon Commission on Nursing; and in 2014, named the Vermont Medical Society Citizen of the Year. In 2018, Ms. Lord was honored by Vital Communities with the Heroes and Leaders Award for the Region.
Dr. Joseph Perras, CEO and Chief Medical Officer at MAHHC, congratulated Lord on her accomplishment, saying, "Having recovery coaches in the Emergency Department, ready to provide peer-based understanding and resources, can be transformative for people who experience Substance Use Disorder. Thanks to Jill for her efforts to make this program, and so many others, work for local people in need. Because of her, and her gift for fostering collaboration, our area is safer and healthier."
About Mt. Ascutney Hospital and Health Center
Founded in 1933, Mt. Ascutney Hospital and Health Center (MAHHC) is a not-for-profit community hospital network in Vermont including the critical access-designated Mt. Ascutney Hospital and Historic Homes of Runnemede, a senior residential care campus, in Windsor, as well as the Ottauquechee Health Center in Woodstock. A member of the Dartmouth-Hitchcock Health system, MAHHC provides primary care and a comprehensive suite of specialty services, along with 25 inpatient beds, a therapeutic pool and an acclaimed, fully modernized 10-bed Acute Rehabilitation Center. Mt. Ascutney Hospital and Health Center is dedicated to improving the lives of those it serves and is at the hub of a wide network of community resources that have partnered to cover gaps in services, and improve overall population health. One of the largest employers in the area, MAHHC acknowledges its employees as its greatest asset and has been recognized by the Governor's Office with an Excellence in Worksite Wellness award.
Mt. Ascutney Hospital and Health Center is accredited by the Commission on Accreditation of Rehabilitation Facilities (CARF), is a recent recipient of Best Practice recognition by the National Rural Health Association (NRHA) for health care quality, and is recognized by the American Hospital Association (AHA) as one of the "Most Wired" hospitals for integration of technology to boost clinical performance. The National Committee for Quality Assurance (NCQA) has awarded MAHHC with Level 3 status, the highest level of medical home designation.
About Turning Point Recovery Center of Springfield, VT
Turning Point is a peer-based network of support for all people affected by any type of addiction. Its mission is to enhance the spiritual, mental, physical, and social growth of communities affected by any form of addiction. Turning Point seeks to facilitate recovery of individuals and their families by providing: a substance-free environment, drop-in center, meeting location, recovery coach program, facilitated groups, substance-free social functions, transitional housing program, and a prevention/resource referral network for services in the area. The network focuses on rebuilding the community and providing a positive outlook for individuals seeking help with addiction and throughout the recovery process.
Turning Point Recovery Center of Springfield, Vermont, Inc is affiliated with the Vermont Recovery Network as a 501(c)(3) non-profit organization. There are many Turning Point's in the state of Vermont. To find other centers, refer to the Vermont Recovery Network Centers web page.