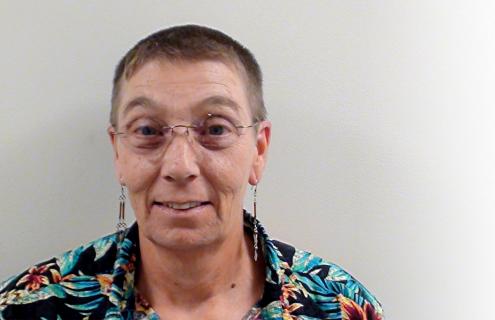 Mt. Ascutney Hospital and Health Center (MAHHC) has announced that Ruth Ferland, Registered Nurse (RN) Case Manager, has been chosen as Employee of the Month for March, 2021. The monthly award recognizes employees who have demonstrated sustained service excellence in their respective departments and have displayed compassion, a caring approach, and continuous hard work within their community.
As an RN Case Manager, Ferland manages the care of assigned patients from intake through discharge, and post-discharge follow up. She coordinates the delivery of services to patients and families, and she manages the financial resources of the patient by acting as the liaison to the payer source and assuring cost-effectiveness of the treatment provided by the team. In addition, she facilitates and coordinates team conference reporting and the discharge planning process, serves as the patient and family advocate to coordinate and direct effective communication regarding the patient's care, and stays in contact with patients after discharge.
Her supervisor, Barbara Dore, Director of Care Management, says "Ruth brings a wealth of experience to Care Management at MAHHC. Her knowledge of formal and informal networks, in addition to her commitment and passion for excellence is evident. She continually works to strengthen the care team through clear communication, compassion and understanding. Ruth demonstrates willingness to assign herself to patients with complex discharge needs. She leaves no stone unturned in transition of care planning and excels at networking with other professionals. Ruth goes above and beyond, working late and on weekends, to help resolve barriers for our patients. She has common sense, is well-grounded and a caring individual. She is truly an asset to MAHHC, our care team and the patients we serve. Thank you for all you do. Congratulations Ruth!"
Ferland has been a member of the MAHHC staff since September, 2019 and is a resident of Cornish, NH.
About Mt. Ascutney Hospital and Health Center
Founded in 1933, Mt. Ascutney Hospital and Health Center (MAHHC) is a not-for-profit community hospital network in Vermont including the critical access-designated Mt. Ascutney Hospital and Historic Homes of Runnemede, a senior residential care campus, in Windsor, as well as the Ottauquechee Health Center in Woodstock. A member of the Dartmouth-Hitchcock Health system, MAHHC provides primary care and a comprehensive suite of specialty services, along with 25 inpatient beds, a therapeutic pool and an acclaimed, fully modernized 10-bed Acute Rehabilitation Center. Mt. Ascutney Hospital and Health Center is dedicated to improving the lives of those it serves and is at the hub of a wide network of community resources that have partnered to cover gaps in services, and improve overall population health. One of the largest employers in the area, MAHHC acknowledges its employees as its greatest asset and has been recognized by the Governor's Office with an Excellence in Worksite Wellness award.
Mt. Ascutney Hospital and Health Center is accredited by the Commission on Accreditation of Rehabilitation Facilities (CARF), is a recent recipient of Best Practice recognition by the National Rural Health Association (NRHA) for health care quality, and is recognized by the American Hospital Association (AHA) as one of the "Most Wired" hospitals for integration of technology to boost clinical performance. The National Committee for Quality Assurance (NCQA) has awarded MAHHC with Level 3 status, the highest level of medical home designation.