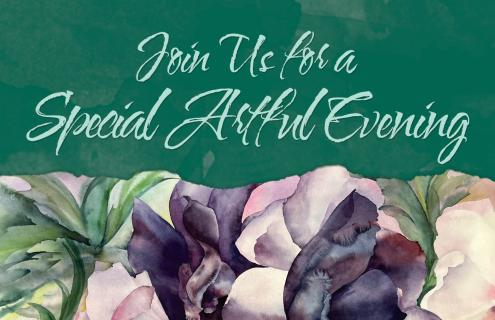 On Saturday, October 15, Mt. Ascutney Hospital and Health Center (MAHHC), a member of Dartmouth Health, will hold a live charity art auction at Reading Town Hall, located at 799 Rte. 106 in Reading, Vermont.
The live event, led by auctioneer Bill Smith, will feature work from The Deborah K. Ellis Fine Art Collection, which was gifted to the hospital by Ellis' spouse, Sarwar Kashmeri, in gratitude for the care she received at MAHHC.
Ellis was a prolific watercolor artist inspired by the natural world, and her paintings depict vibrant scenes of plants and outdoor life.
A preview of the art will happen from 2:00 to 5:00 pm, followed by the live auction at 5:00 pm. No RSVP is required to attend.
Proceeds from the auction will help support health and wellness programs and clinical services at MAHHC.
About Mt. Ascutney Hospital and Health Center
Founded in 1933, Mt. Ascutney Hospital and Health Center (MAHHC) is a not-for-profit community hospital network in Vermont, including the critical access-designated Mt. Ascutney Hospital and Historic Homes of Runnemede, a senior residential care campus, in Windsor, as well as the Ottauquechee Health Center in Woodstock. A member of the Dartmouth Health system, MAHHC provides primary care and a comprehensive suite of specialty services, along with 25 inpatient beds, a therapeutic pool and an acclaimed, fully modernized 10-bed Acute Rehabilitation Center. Mt. Ascutney Hospital and Health Center is dedicated to improving the lives of those it serves and is at the hub of a wide network of community resources that have partnered to cover gaps in services and improve overall population health. One of the largest employers in the area, MAHHC acknowledges its employees as its greatest asset and has been recognized by the Governor's Office with an Excellence in Worksite Wellness award.
Mt. Ascutney Hospital and Health Center is accredited by the Commission on Accreditation of Rehabilitation Facilities (CARF), is a recent recipient of Best Practice recognition by the National Rural Health Association (NRHA) for health care quality, and is recognized by the American Hospital Association (AHA) as one of the "Most Wired" hospitals for integration of technology to boost clinical performance. The National Committee for Quality Assurance (NCQA) has awarded MAHHC with Level 3 status, the highest level of medical home designation.