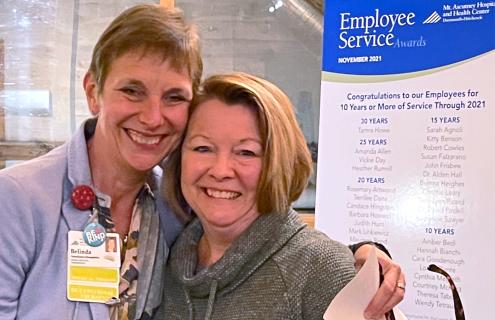 Mt. Ascutney Hospital and Health Center (MAHHC) commemorated employment milestones for 32 employees at its annual Employee Service Awards, and held a catered event at the the Silo in Windsor on November 4th, 2021. Dr. Joseph Perras, President and CEO, Chief Medical Officer, gave welcoming remarks congratulating the staff members on their service and dedication to community health over the course of many years.
Recipients celebrating 10 years of employment included: Amber Bedi, Hannah Bianchi, Cara Goodenough, Lori LaPlante, Cynthia Magrath, Courtney McKaig, Theresa Tabor, and Wendy Tetrault.
Recipients marking 15 years at MAHHC included: Sarah Agnoli, Kitty Benson, Robert Cowles, Susan Falzarano, John Frisbee, Dr. Alden Hall, Brenna Heighes, Christie Leary, Terri-Lynn Picard, Dr. David Podell, and Katherine Sawyer.
MAHHC employees celebrating 20 years included: Rosemary Atwood, Terrilee Dana, Candace Hingston, Barbra Howard, Judith Hunt, Mark Linkiewicz, Maureen Reed, Melanie Sheehan, and Gwen Spaulding.
Reaching the 25-year milestone were Amanda Allen, Vickie Day, and Heather Rumrill.
Finally, Tamra Howe celebrated 30 years as a Hospital employee in 2021.
"Together, these team members represent many decades of institutional knowledge and expertise, all focused on providing the best care possible for the people and communities we serve," said Dr. Perras, who continued, "We're proud to commemorate their achievements, and to call them colleagues. We look forward to working with them for many years to come, and celebrating more anniversaries with them."
About Mt. Ascutney Hospital and Health Center
Founded in 1933, Mt. Ascutney Hospital and Health Center (MAHHC) is a not-for-profit community hospital network in Vermont including the critical access-designated Mt. Ascutney Hospital and Historic Homes of Runnemede, a senior residential care campus, in Windsor, as well as the Ottauquechee Health Center in Woodstock. A member of the Dartmouth-Hitchcock Health system, MAHHC provides primary care and a comprehensive suite of specialty services, along with 25 inpatient beds, a therapeutic pool and an acclaimed, fully modernized 10-bed Acute Rehabilitation Center. Mt. Ascutney Hospital and Health Center is dedicated to improving the lives of those it serves and is at the hub of a wide network of community resources that have partnered to cover gaps in services, and improve overall population health. One of the largest employers in the area, MAHHC acknowledges its employees as its greatest asset and has been recognized by the Governor's Office with an Excellence in Worksite Wellness award.
Mt. Ascutney Hospital and Health Center is accredited by the Commission on Accreditation of Rehabilitation Facilities (CARF), is a recent recipient of Best Practice recognition by the National Rural Health Association (NRHA) for health care quality, and is recognized by the American Hospital Association (AHA) as one of the "Most Wired" hospitals for integration of technology to boost clinical performance. The National Committee for Quality Assurance (NCQA) has awarded MAHHC with Level 3 status, the highest level of medical home designation.