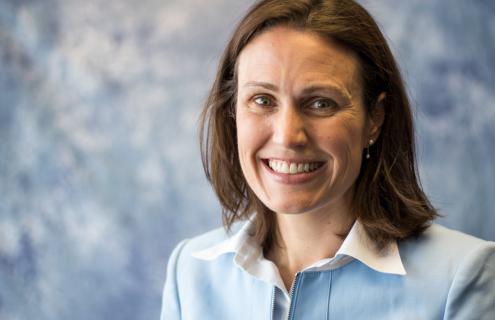 Mt. Ascutney Hospital and Health Center (MAHHC) has announced that Hannah Bianchi has been named as the new Chief Operating Officer (COO) of the Hospital. Bianchi had served as MAHHC's Director of Provider Practices since 2017. The announcement follows the retirement of Paul Calandrella, who had been the Hospital's COO since 2012. As COO, Bianchi is responsible for overseeing daily Hospital operations and HR decisions, and for managing the administration of various departments and the entire Hospital.
Bianchi joined MAHHC in January of 2012 following a decade as Manager at Associated in Surgery in Claremont, New Hampshire. She began at MAHHC as Specialties Practice Manager, then moved into the role of Primary Care Practice Manager before being promoted to Director of Provider Practices in 2017. Over the course of the COVID-19 pandemic, Bianchi took on significant operational leadership in multiple areas of the Hospital and directed much of the response to the crisis. She is a graduate of the University of Michigan, and will complete her Master's degree in Healthcare Administration from Southern New Hampshire University in December, 2021. Active in her community, she was recently elected to the New London, New Hampshire Budget Committee.
Dr. Joseph Perras, CEO and Chief Medical Officer, said "Hannah brings excellent administrative leadership skills and an ability to work across disciplines to execute on strategic goals. While we will all miss Paul Calandrella, and wish him the best in his well-earned retirement with gratitude for his many accomplishments, I am excited to work with Hannah in her new role, and I hope you will join me in congratulating her as she joins the MAHHC senior leadership team."
Bianchi is a resident of New London, New Hampshire, where she lives with her husband, Pete, two children, and Weimardoodle puppy, Fritz.
About Mt. Ascutney Hospital and Health Center
Founded in 1933, Mt. Ascutney Hospital and Health Center (MAHHC) is a not-for-profit community hospital network in Vermont including the critical access-designated Mt. Ascutney Hospital and Historic Homes of Runnemede, a senior residential care campus, in Windsor, as well as the Ottauquechee Health Center in Woodstock. A member of the Dartmouth-Hitchcock Health system, MAHHC provides primary care and a comprehensive suite of specialty services, along with 25 inpatient beds, a therapeutic pool and an acclaimed, fully modernized 10-bed Acute Rehabilitation Center. Mt. Ascutney Hospital and Health Center is dedicated to improving the lives of those it serves and is at the hub of a wide network of community resources that have partnered to cover gaps in services, and improve overall population health. One of the largest employers in the area, MAHHC acknowledges its employees as its greatest asset and has been recognized by the Governor's Office with an Excellence in Worksite Wellness award.
Mt. Ascutney Hospital and Health Center is accredited by the Commission on Accreditation of Rehabilitation Facilities (CARF), is a recent recipient of Best Practice recognition by the National Rural Health Association (NRHA) for health care quality, and is recognized by the American Hospital Association (AHA) as one of the "Most Wired" hospitals for integration of technology to boost clinical performance. The National Committee for Quality Assurance (NCQA) has awarded MAHHC with Level 3 status, the highest level of medical home designation.