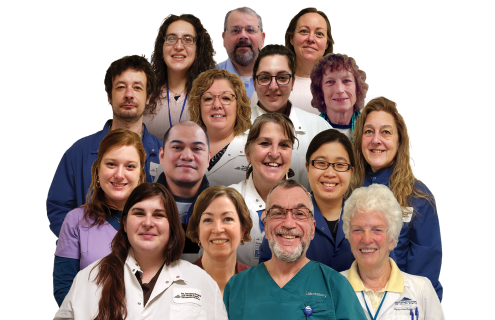 Mt. Ascutney Hospital and Health Center (MAHHC) has named the entire Laboratory staff as Team of the Month for December, 2020. The monthly award recognizes employees or teams who have demonstrated sustained service excellence in their respective departments and have displayed compassion, a caring approach, and continuous hard work within their community.
Led by Lab Manager Lara A. Moody, the Laboratory Team at MAHHC consists of: Judith Dosset, Therese Etman, Laurie Fitzherbert, Ray Judware, Jean Leete, Nemanja Mirkovic, Lara Moody, Tammie Neilsen, Amir Papa, Billie Papa, Rebecca Parker, Robyn Pond, Shannon Sanders, Stacey Smith, John White, and Brianna Wright. Working with Hospital clinicians who order lab work for patients, the Laboratory Team performs a wide range of tests on clinical specimens and analyzes the results, in order to aid in the diagnosis, treatment, and prevention of disease.
According to Terri Demond, Director of Ancillary Services, the Laboratory Team "is an amazing group of hardworking, caring people. They are always willing to do whatever is needed to help our patients and support each other. The last several months have been extremely trying and exhausting for everyone, but the lab team has kept their positive attitudes and continued to provide excellent service to all." Demond says that the team "just completed their extremely rigorous accreditation inspection by the College of American Pathologists and received fabulous results. It was a testament to the entire staff. The long hours and dedication to their professions really shows. Thank you all, for everything that you do!" 
About Mt. Ascutney Hospital and Health Center
Founded in 1933, Mt. Ascutney Hospital and Health Center (MAHHC) is a not-for-profit community hospital network in Vermont including the critical access-designated Mt. Ascutney Hospital and Historic Homes of Runnemede, a senior residential care campus, in Windsor, as well as the Ottauquechee Health Center in Woodstock. A member of the Dartmouth-Hitchcock Health system, MAHHC provides primary care and a comprehensive suite of specialty services, along with 25 inpatient beds, a therapeutic pool and an acclaimed, fully modernized 10-bed Acute Rehabilitation Center. Mt. Ascutney Hospital and Health Center is dedicated to improving the lives of those it serves and is at the hub of a wide network of community resources that have partnered to cover gaps in services, and improve overall population health. One of the largest employers in the area, MAHHC acknowledges its employees as its greatest asset and has been recognized by the Governor's Office with an Excellence in Worksite Wellness award.
Mt. Ascutney Hospital and Health Center is accredited by the Commission on Accreditation of Rehabilitation Facilities (CARF), is a recent recipient of Best Practice recognition by the National Rural Health Association (NRHA) for health care quality, and is recognized by the American Hospital Association (AHA) as one of the "Most Wired" hospitals for integration of technology to boost clinical performance. The National Committee for Quality Assurance (NCQA) has awarded MAHHC with Level 3 status, the highest level of medical home designation.