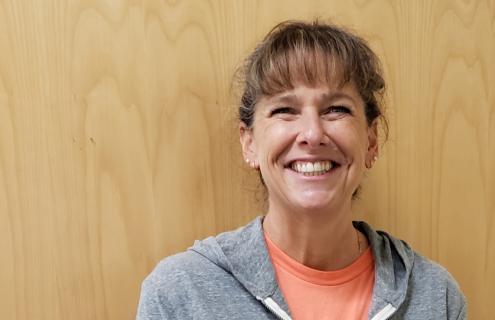 Mt. Ascutney Hospital and Health Center (MAHHC) has announced that Meg Lizotte, a Physical Therapy Assistant at the Hospital, has been chosen as Employee of the Month for September, 2021. The monthly award recognizes employees who have demonstrated sustained service excellence in their respective departments and have displayed compassion, a caring approach, and continuous hard work within their community.
As a member of the Rehabilitation Center team, Lizotte works with both inpatients and outpatients who have injuries or medical conditions that limit their mobility or make it difficult to perform the tasks of daily living. She helps patients perform exercises, work on walking, balance, and coordination training, and provides education to patients and their families. She has specialized training in working with patients who experience lymphedema, a condition in which damage or blockages in the lymph system cause build-up of fluid in soft body tissues. Lizotte also serves as the Student Coordinator for physical therapy, occupational therapy for the inpatient and outpatient therapy department.
Her supervisor Kayla Baker, PT Inpatient Physical Therapy and Occupational Therapy Manager, says "Over the years, Meg has been tasked with different job responsibilities and has willingly stepped up to do whatever is needed. She has recently begun covering for the PPS (Prospective Payment System) Coordinator, which requires her to learn a new set of skills. She is incredibly organized which is vital in doing all the 'small' tasks that are needed for the acute rehab and swing/acute units to run smoothly. She is truly a team player and we all thank her!"
Lizotte is a resident of Claremont, New Hampshire. She has been a member of the MAHHC staff since 1999.
About Mt. Ascutney Hospital and Health Center
Founded in 1933, Mt. Ascutney Hospital and Health Center (MAHHC) is a not-for-profit community hospital network in Vermont including the critical access-designated Mt. Ascutney Hospital and Historic Homes of Runnemede, a senior residential care campus, in Windsor, as well as the Ottauquechee Health Center in Woodstock. A member of the Dartmouth-Hitchcock Health system, MAHHC provides primary care and a comprehensive suite of specialty services, along with 25 inpatient beds, a therapeutic pool and an acclaimed, fully modernized 10-bed Acute Rehabilitation Center. Mt. Ascutney Hospital and Health Center is dedicated to improving the lives of those it serves and is at the hub of a wide network of community resources that have partnered to cover gaps in services, and improve overall population health. One of the largest employers in the area, MAHHC acknowledges its employees as its greatest asset and has been recognized by the Governor's Office with an Excellence in Worksite Wellness award.
Mt. Ascutney Hospital and Health Center is accredited by the Commission on Accreditation of Rehabilitation Facilities (CARF), is a recent recipient of Best Practice recognition by the National Rural Health Association (NRHA) for health care quality, and is recognized by the American Hospital Association (AHA) as one of the "Most Wired" hospitals for integration of technology to boost clinical performance. The National Committee for Quality Assurance (NCQA) has awarded MAHHC with Level 3 status, the highest level of medical home designation.