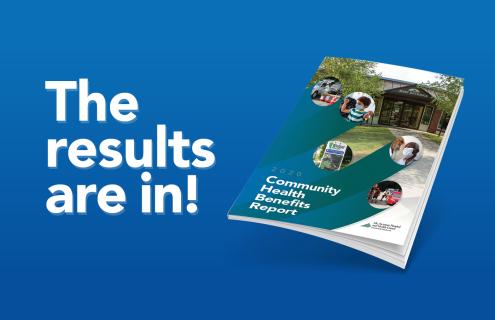 The Mt. Ascutney Hospital and Health Center (MAHHC) community will come together virtually on February 3, 2022, to share the results of the hospital's 2021 Community Health Needs Assessment survey. This is an opportunity to build awareness for the work being done and to recruit and engage new community partners.
The assessment, completed in partnership with Dartmouth-Hitchcock, Alice Peck Day Memorial Hospital, Valley Regional Healthcare, New London Hospital, Lake Sunapee Region VNA & Hospice, Visiting Nurse and Hospice for VT and NH, and the New Hampshire Community Health Institute, examined health-related issues and concerns impacting the well-being of MAHHC area residents in 13 towns and villages.
Additionally, the assessment focused on vulnerable and disproportionately served populations in the region, including populations that experience limited access to health-related services or resources due to income, age, disability, social or physical isolation, and the significant impact of the COVID-19 pandemic.
The top priorities highlighted by the assessment are the availability of mental health services, affordability of healthcare services and insurance, alcohol/drug use prevention, treatment and recovery, addressing socioeconomic conditions that affect well-being and the affordability/accessibility of dental care.
"We intend to build on our strong community health network working with more than 99 community partner agencies," said Jill Lord, RN, MS, director of Community Health at MAHHC. "Our area is served by committed and talented experts that support and contribute to this critical work."
For more information and to register for the event, please visit our event registration page.
About Mt. Ascutney Hospital and Health Center
Founded in 1933, Mt. Ascutney Hospital and Health Center (MAHHC) is a not-for-profit community hospital network in Vermont, including the critical access-designated Mt. Ascutney Hospital and Historic Homes of Runnemede, a senior residential care campus, in Windsor, as well as the Ottauquechee Health Center in Woodstock. A member of the Dartmouth Health system, MAHHC provides primary care and a comprehensive suite of specialty services, along with 25 inpatient beds, a therapeutic pool and an acclaimed, fully modernized 10-bed Acute Rehabilitation Center. Mt. Ascutney Hospital and Health Center is dedicated to improving the lives of those it serves and is at the hub of a wide network of community resources that have partnered to cover gaps in services and improve overall population health. One of the largest employers in the area, MAHHC acknowledges its employees as its greatest asset and has been recognized by the Governor's Office with an Excellence in Worksite Wellness award.
Mt. Ascutney Hospital and Health Center is accredited by the Commission on Accreditation of Rehabilitation Facilities (CARF), is a recent recipient of Best Practice recognition by the National Rural Health Association (NRHA) for health care quality, and is recognized by the American Hospital Association (AHA) as one of the "Most Wired" hospitals for integration of technology to boost clinical performance. The National Committee for Quality Assurance (NCQA) has awarded MAHHC with Level 3 status, the highest level of medical home designation.