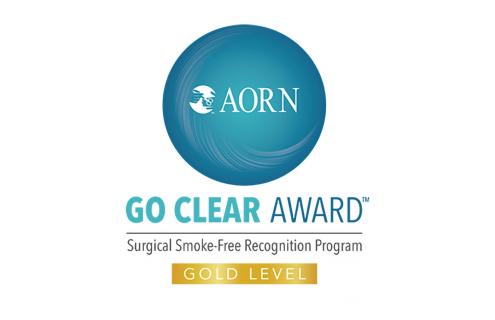 Mt. Ascutney Hospital and Health Center (MAHHC) announced today that it has earned the Go Clear Award™ for its achievement in eliminating hazardous smoke from its surgical procedures. The Go Clear Award is presented by the Association of periOperative Registered Nurses (AORN) to recognize health care facilities that have committed to providing increased surgical patient and health care worker safety by implementing practices that eliminate smoke caused by the use of lasers and electrosurgery devices during surgery. MAHHC earned its award by undergoing comprehensive surgical smoke education and testing and for providing the medical devices and resources necessary to evacuate surgical smoke during all smoke-generating procedures.
Surgical smoke is the unwanted by-product of energy-generating devices that are used in 90 percent of all surgeries. Its contents include toxic chemicals such as benzene, formaldehyde, hydrogen cyanide and carbon monoxide, viruses, bacteria, blood and cancer cells. Inhalation and absorption of surgical smoke pose serious health risks to patients and surgical staff. Studies compare the inhalation of smoke from vaporized human tissue to the smoke created by cigarettes; the average daily impact of surgical smoke to the surgical team is equivalent to inhaling 27-30 unfiltered cigarettes. Today, it is estimated only 50% of health care workers across the U.S. understand the hazards of smoke exposure.
"Total evacuation needs to become the standard for all procedures that generate surgical smoke," said Linda Groah, MSN, RN, CNOR, NEA-BC, FAAN, CEO/Executive Director of AORN. "With this award, Mt. Ascutney Hospital and Health Center is demonstrating its deep commitment to the health and safety of its staff and community."
Dr. Joseph Perras, CEO and Chief Medical Officer at MAHHC, called the recognition a significant achievement in demonstrating the Hospital's commitment to surgical excellence. "When it comes to ensuring safe, successful surgeries," he said, "every detail matters, from the skill of the surgical team to the quality of the environment in which they operate. Whether a surgical suite is in a major medical center or a rural, critical access hospital like ours, the standard is the same. This recognition from AORN is evidence of how seriously we take our responsibility, by investing to ensure a safe environment for care."
About AORN
AORN represents the interests of more than 160,000 perioperative nurses by providing nursing education, standards, and practice resources—including the peer-reviewed, monthly publication AORN Journal—to enable optimal outcomes for patients undergoing operative and other invasive procedures. AORN's 40,000 registered nurse members manage, teach, and practice perioperative nursing, are enrolled in nursing education or are engaged in perioperative research.
About Mt. Ascutney Hospital and Health Center
Founded in 1933, Mt. Ascutney Hospital and Health Center (MAHHC) is a not-for-profit community hospital network in Vermont including the critical access-designated Mt. Ascutney Hospital and Historic Homes of Runnemede, a senior residential care campus, in Windsor, as well as the Ottauquechee Health Center in Woodstock. A member of the Dartmouth-Hitchcock Health system, MAHHC provides primary care and a comprehensive suite of specialty services, along with 25 inpatient beds, a therapeutic pool and an acclaimed, fully modernized 10-bed Acute Rehabilitation Center. Mt. Ascutney Hospital and Health Center is dedicated to improving the lives of those it serves and is at the hub of a wide network of community resources that have partnered to cover gaps in services, and improve overall population health. One of the largest employers in the area, MAHHC acknowledges its employees as its greatest asset and has been recognized by the Governor's Office with an Excellence in Worksite Wellness award.
Mt. Ascutney Hospital and Health Center is accredited by the Commission on Accreditation of Rehabilitation Facilities (CARF), is a recent recipient of Best Practice recognition by the National Rural Health Association (NRHA) for health care quality, and is recognized by the American Hospital Association (AHA) as one of the "Most Wired" hospitals for integration of technology to boost clinical performance. The National Committee for Quality Assurance (NCQA) has awarded MAHHC with Level 3 status, the highest level of medical home designation.