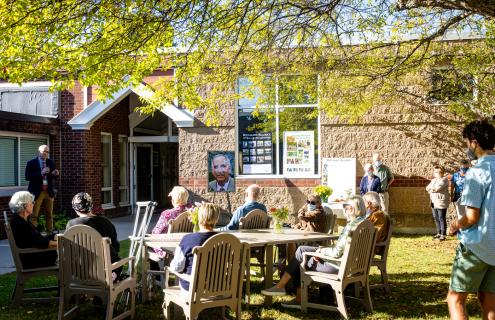 Mt. Ascutney Hospital and Health Center (MAHHC), a member of Dartmouth Health, has named its Outpatient Therapies wing in honor of Richard I. Slusky, the late former CEO of MAHHC. Slusky served as CEO for 28 years from 1982 to 2010.
"He chaired a project to open our Acute Rehabilitation Unit to serve the needs of the broader community. He also supported our development of the Miller Therapeutic Pool to further develop our rehabilitation services with an aquatic program," says Belinda Needham-Shropshire, OT, MSPT, MBA, director of Rehabilitation Services at MAHHC.
A transformative figure in MAHHC's history, Slusky was responsible for numerous expansions and improvements to the hospital's outpatient therapies program.
"Richard was a man who honored his commitments and demonstrated integrity throughout the time I worked with him," says Needham-Shropshire. "He enjoyed people and demonstrated his care and compassion to all he interacted with."
Near the end of his tenure, Slusky guided MAHHC's integration with Dartmouth Health.
About Mt. Ascutney Hospital and Health Center
Founded in 1933, Mt. Ascutney Hospital and Health Center (MAHHC) is a not-for-profit community hospital network in Vermont including the critical access-designated Mt. Ascutney Hospital and Historic Homes of Runnemede, a senior residential care campus, in Windsor, as well as the Ottauquechee Health Center in Woodstock. A member of the Dartmouth-Hitchcock Health system, MAHHC provides primary care and a comprehensive suite of specialty services, along with 25 inpatient beds, a therapeutic pool and an acclaimed, fully modernized 10-bed Acute Rehabilitation Center. Mt. Ascutney Hospital and Health Center is dedicated to improving the lives of those it serves and is at the hub of a wide network of community resources that have partnered to cover gaps in services, and improve overall population health. One of the largest employers in the area, MAHHC acknowledges its employees as its greatest asset and has been recognized by the Governor's Office with an Excellence in Worksite Wellness award.
Mt. Ascutney Hospital and Health Center is accredited by the Commission on Accreditation of Rehabilitation Facilities (CARF), is a recent recipient of Best Practice recognition by the National Rural Health Association (NRHA) for health care quality, and is recognized by the American Hospital Association (AHA) as one of the "Most Wired" hospitals for integration of technology to boost clinical performance. The National Committee for Quality Assurance (NCQA) has awarded MAHHC with Level 3 status, the highest level of medical home designation.