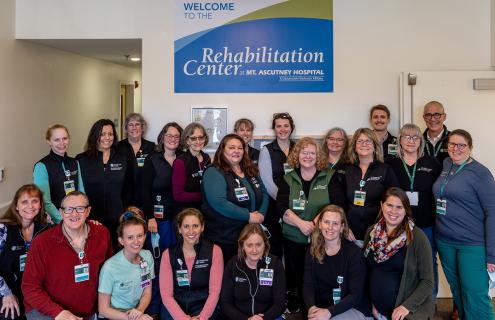 Award recognizes MAHHC's Acute Rehabilitation Center
Mt. Ascutney Hospital and Health Center (MAHHC) has been awarded the Guardian of Excellence Award for Patient Experience at its Acute Rehabilitation Center as part of Press Ganey's annual ranking of the top hospitals and health systems in the U.S.
"We are proud of our staff and thrilled, though not surprised, that our team has been recognized in this way," said Joseph Perras, MD, CEO and chief medical officer of MAHHC. "Our Rehab specialists endeavor to create a caring and supportive, yet rigorous environment for our patients. Our patients are putting in the real work towards their rehabilitation and recovery. It is a team effort in caring for acute rehabilitation patients and it is gratifying to see our team achieve this award."
The Rehabilitation Center's Director, Belinda Needham-Shropshire, further stated that "The award recognizes the deep compassion that our staff demonstrate while working with each and every patient and their caregivers to help them return to a meaningful and productive life."
Press Ganey selected its award recipients based on a range of scores which measure hospital performance, in this case patient experience. Other criteria included positive reports on clinical staff teamwork and patients' likelihood to recommend the hospital or health system. Only the top 5% of healthcare providers delivering such high-quality care and patient experience shared in this honor.
The Acute Rehabilitation Center at MAHHC is one of only two true inpatient rehabilitation programs in Vermont, and its inpatient and outpatient Rehabilitation and Physical Medicine Programs are the first choice of referring hospitals and healthcare providers throughout Vermont and central New Hampshire.
MAHHC offers the most advanced patient-centered services in a comfortable and easily accessible facility. The hospital opened a new, state-of-the-art inpatient facility in July 2015 to further enhance the personalized and intensive rehabilitative therapy offered by its highly skilled team. The rehabilitation program was established more than 30 years ago.
MAHHC also earned top scores in patient experience in the Vermont Department of Health's 2022 Hospital Report Card. The hospital received the highest share of praise from patients who ranked hospitals and said they would recommend it to friends and family.
For more information about Mt. Ascutney Hospital and Health Center, visit the Mt. Ascutney Hospital and Health Center website.
About Press Ganey
Press Ganey, the leading Human Experience (HX) healthcare performance improvement company, offers an integrated suite of solutions that address safety, clinical excellence, patient experience and workforce engagement. The company works with more than 41,000 healthcare facilities in its mission to reduce patient suffering and enhance caregiver resilience to improve the overall safety, quality and experience of care. Press Ganey is a PG Forsta company.
About Mt. Ascutney Hospital and Health Center
Founded in 1933, Mt. Ascutney Hospital and Health Center (MAHHC) is a not-for-profit community hospital network in Vermont, including the critical access-designated Mt. Ascutney Hospital and Historic Homes of Runnemede, a senior residential care campus, in Windsor, as well as the Ottauquechee Health Center in Woodstock. A member of the Dartmouth Health system, MAHHC provides primary care and a comprehensive suite of specialty services, along with 25 inpatient beds, a therapeutic pool and an acclaimed, fully modernized 10-bed Acute Rehabilitation Center. Mt. Ascutney Hospital and Health Center is dedicated to improving the lives of those it serves and is at the hub of a wide network of community resources that have partnered to cover gaps in services and improve overall population health. One of the largest employers in the area, MAHHC acknowledges its employees as its greatest asset and has been recognized by the Governor's Office with an Excellence in Worksite Wellness award.
Mt. Ascutney Hospital and Health Center is accredited by the Commission on Accreditation of Rehabilitation Facilities (CARF), is a recent recipient of Best Practice recognition by the National Rural Health Association (NRHA) for health care quality, and is recognized by the American Hospital Association (AHA) as one of the "Most Wired" hospitals for integration of technology to boost clinical performance. The National Committee for Quality Assurance (NCQA) has awarded MAHHC with Level 3 status, the highest level of medical home designation.