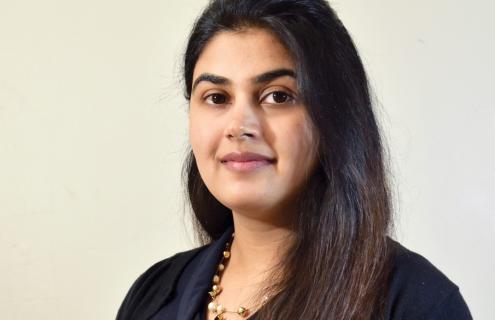 Mt. Ascutney Hospital and Health Center, (MAHHC) has announced that Dr. Harmanpreet Tiwana has joined the hospital staff as a Clinical Neurophysiologist.
Board-certified in Neurology by the American Board of Psychiatry and Neurology, and board eligible for neurophysiology, Dr. Tiwanais currently accepting new patients by referral. As a neurologist, she specializes in the diagnosis of neurological disorders. She consults with patient care teams and the Rehabilitation Center at Mt. Ascutney Hospital on treating disorders of the brain, spinal cord, peripheral nerves, muscles, and involuntary nervous system which controls the heartbeat, breathing, and other functions. She addresses a range of conditions including stroke, epilepsy, headaches and migraines, brain aneurysms, peripheral neuropathy, sleep disorders, neurodegenerative diseases such as Parkinson's disease and Alzheimer's disease, neuromuscular diseases such as myasthenia gravis, multiple sclerosis (MS), and amyotrophic lateral sclerosis (ALS), infections of the nervous system such as encephalitis and meningitis, and HIV.
A graduate of Gian Sagar Medical College and Hospital in Punjab, India, Dr. Tiwana completed an internship in Internal Medicine and residency in Adult Neurology at Penn State Hershey Medical Center in Hershey, Pennsylvania. She followed this with a Fellowship in Clinical Neurophysiology at Dartmouth-Hitchcock Medical Center. In addition to those hospitals, her clinical experience includes practicing internal medicine at Perry Point VA Medical Center in Perry Point Maryland, an elective in cardiology at Icahn School of Medicine – Mount Sinai Medical Center, and a period of time at Elite Family Health in Indiana. She is a member of the International Congress of Clinical Neurophysiology, American Association of Neuromuscular and Electrodiagnostic Medicine, American Association of Neurology, Punjab Medical Council, and Indian Medical Association.
In addition to her clinical work, Dr. Tiwana is active in research, with numerous abstracts and publications. She is the co-recipient of the 2017 AANEM Residency and Fellowship Abstract Award, Resident Research Scholar of the Year Award in Neurology for 2017-2018, the 2018-2019 Kothari Award for Excellence in Neurology at Penn State Hershey Medical Center, and an American Association of Neurology resident scholarship in 2019. She has given lectures to medical students on a range of topics, including epilepsy, electromyography, Parkinson's disease, stroke, and other topics.
According to Dr. Joseph Perras, President, CEO, and Chief Medical Officer at MAHHC, Dr. Tiwana adds important expertise to the Hospital and the region. "Neurological conditions are experienced by people across the towns we serve," he says, "and it is enormously valuable for us to have enhanced diagnostic capability right here. Dr. Tiwana shows a willingness to go the extra mile for her patients in providing consistent quality care as part of the clinical team."
Away from work, Dr. Tiwana is an avid swimmer and tennis player. For more information call (802) 674-6711.
About Mt. Ascutney Hospital and Health Center
Founded in 1933, Mt. Ascutney Hospital and Health Center (MAHHC) is a not-for-profit community hospital network in Vermont including the critical access-designated Mt. Ascutney Hospital and Historic Homes of Runnemede, a senior residential care campus, in Windsor, as well as the Ottauquechee Health Center in Woodstock. A member of the Dartmouth-Hitchcock Health system, MAHHC provides primary care and a comprehensive suite of specialty services, along with 25 inpatient beds, a therapeutic pool and an acclaimed, fully modernized 10-bed Acute Rehabilitation Center. Mt. Ascutney Hospital and Health Center is dedicated to improving the lives of those it serves and is at the hub of a wide network of community resources that have partnered to cover gaps in services, and improve overall population health. One of the largest employers in the area, MAHHC acknowledges its employees as its greatest asset and has been recognized by the Governor's Office with an Excellence in Worksite Wellness award.
Mt. Ascutney Hospital and Health Center is accredited by the Commission on Accreditation of Rehabilitation Facilities (CARF), is a recent recipient of Best Practice recognition by the National Rural Health Association (NRHA) for health care quality, and is recognized by the American Hospital Association (AHA) as one of the "Most Wired" hospitals for integration of technology to boost clinical performance. The National Committee for Quality Assurance (NCQA) has awarded MAHHC with Level 3 status, the highest level of medical home designation.