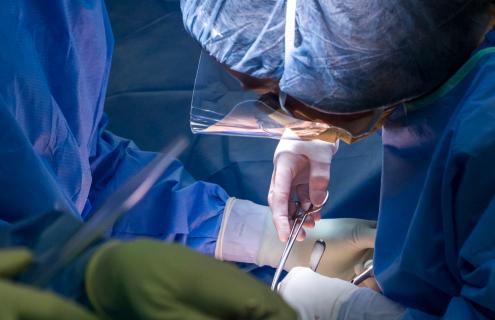 Mt. Ascutney Hospital and Health Center (MAHHC) and Ottauquechee Health Center (OHC) are beginning to expand access to a number of medical services as the region cautiously starts to reopen following the initial peak of the COVID-19 crisis. Services with increased access include primary care visits and ophthalmology appointments, as well as a number of time-sensitive surgeries and outpatient therapies.
"We remain committed to providing the highest quality care in the safest possible environment for our patients and our staff," said Dr. Joseph Perras, CEO and Chief Medical Officer at MAHHC. "While MAHHC providers continued to perform urgent and emergent surgical and procedural cases as well as provide care in our Emergency Department and outpatient clinics during the pandemic, we did stop elective procedures and encouraged telehealth visits for our patients. Now, with an abundance of caution, we're ready to return to the services people count on us for every day."
"Across Vermont and New Hampshire, people working together, maintaining social distance, and following other precautions have kept cases low and saved lives," said Dr. Perras. "This has given hospitals like ours the time we need to prepare because we know that access to regular doctor's appointments is crucial in keeping individuals and communities healthy. People can only wait for so long before minor health issues become urgent, and some surgeries and other procedures are only elective for so long before they become necessary."
"As we provide care, we are focused on keeping people safe, both our patients and our staff," added Dr. Perras, who said that the Hospital currently has an adequate supply of anesthetics, pharmaceuticals and Personal Protective Equipment, including masks, gloves, and gowns to address routine needs and any possible COVID-19 surge. "Meanwhile," he continued, "we have reviewed time-sensitive surgeries and therapies that have been delayed, and we have started to schedule them for the near future."
Dr. Perras stressed infection control protocols at MAHHC and OHC that are designed to protect people from COVID-19. "Our diligence in cleaning and spacing people apart so far has helped us keep this illness at bay. We want people to feel comfortable returning to see us, so please know that we are intensely focused on safety, and we would not proceed unless we were confident we can protect people." Dr. Perras noted that MAHHC and OHC are going to increase the number of cases gradually over the coming weeks, and he added that in the event COVID-19 does resurge across the region, MAHHC and OHC are prepared to curtail access once again.
Those who are seeking primary care appointments are asked to call their providers for more information. The Hospital is reaching out to contact and reschedule appointments for those whose procedures were delayed during the past two months.
When appropriate, patients are reminded that they can also visit a medical professional from home with a video call, accessible through the use of the myMAHHC Patient Portal, a safe and convenient way to receive ongoing medical care. Patients may sign-up for myMAHHC Patient Portal by visiting the Self-Enrollment for My Patient Portal website or by calling (802) 674-7300 and choosing option #3 for the Primary Care Clinic. For the Ottauquechee Health Center patients should call (802) 457-3030.