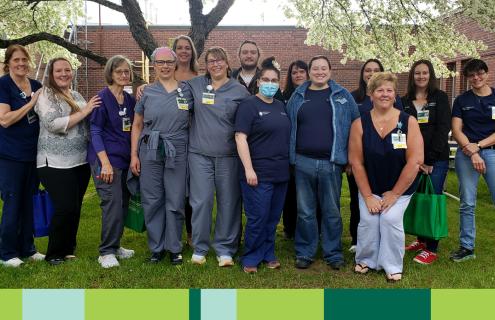 Three nurses, two nursing assistants (LNAs) and one medical assistant (MA) at Mt. Ascutney Hospital and Health Center (MAHHC) were recently recognized for providing extraordinary patient care with DAISY and PETALS Awards, respectively, by the DAISY Foundation, an international organization founded to celebrate nurses.
"Nurses, LNAs and medical assistants are the backbone of every hospital, balancing compassion with know-how, patience with hard work, listening to patients with supporting their colleagues," said Joseph Perras, MD, CEO and chief medical officer of MAHHC. "They deserve every bit of recognition they can get and more. Congratulations to this year's recipients."
The DAISY Foundation award program's nursing professional development and recognition council awarded Operating Room Nurse Manager Wendy Tetrault, RN, CNOR, the DAISY Nurse Leader Award. Tetrault supervises the operating room and same-day surgery programs.
"Wendy is an exceptional communicator, seeking out collaborative solutions with staff, engaging them in the process and solutions," said Kim Rich, RN, CAPA, in Tetrault's nomination. "I feel privileged to be part of her team, to be able to collaborate and make suggestions that are truly valued and heard."
Nurses Ellen Goodenough, RN, and Elizabeth Sheehan, BSN, RN, also received DAISY Awards. Goodenough has been a nurse in the MAHHC Acute Rehabilitation Center for more than 30 years. According to her peers, Goodenough gets to know her patients not only medically, but personally, and is often recognized by name when patients fill out surveys or answer follow up calls. Sheehan works as an informatics nurse in the staff education department. Her colleagues who nominated her recognized her as a strong leader and resource for bedside nurses, and noted her generosity and flexibility with her time, saying she is always willing to provide support.
"I am incredibly proud of the nursing and assistant staff at MAHHC," said Amy Visser-Lynch, MSN, RN, CENP and MAHHC's chief nursing officer. "Every day, I get to see everyone from our most veteran nurses to our youngest medical assistants work hard, perform small acts of kindness and become invested in the lives of our patients, but it's a rare thing to share these accomplishments with folks outside of our hospital walls."
Mt. Ascutney Hospital also awarded PETALS Awards to Ann Hillock, LNA, Alexis LeBlanc, MA, and Sarah Amoroso, LNA. Hillock works in Acute Care and is recognized by her peers as a team player who goes above and beyond to make sure her patients are comfortable. LeBlanc, who works in Pediatrics, is described as efficient, cheerful and unflappable by Mary Bender, MD, a MAHHC pediatrician, who also said LeBlanc takes extra care to make the clinic as inclusive as possible to LGBTQ patients and family. Amoroso works in the Emergency Department (ED). Recently, Amoroso advocated strongly for a patient to secure an appointment with a specialist following multiple ED and primary care visits for the same issue. This is the third year in a row Amoroso has been honored with a PETALS Award.
For more information about Mt. Ascutney Hospital and Health Center, visit the Mt. Ascutney Hospital website.
About the DAISY Award
The DAISY (Diseases Attacking the Immune System) Award is an international program that celebrates the skillful, compassionate care nurses provide every day. Members of the nursing professional development and recognition council review DAISY Award nominations and select the winners.
The DAISY Foundation was established by the family of J. Patrick Barnes after he died from complications of the auto-immune disease Idiopathic Thrombocytopenia Purpura (ITP) in 1999. During Pat's hospitalization, the family deeply appreciated the care and compassion shown by the nurses. When Pat died, the family felt compelled to say "thank you" to nurses in a very public way, and they established The DAISY Award in his honor.
About the PETALS Award
The PETALS (Professional Extraordinaires That Always Lend Support) Award honors those who partner with nurses to provide exceptional care, including LPNs, LNAs, and CMAs.
About Mt. Ascutney Hospital and Health Center
Founded in 1933, Mt. Ascutney Hospital and Health Center (MAHHC) is a not-for-profit community hospital network in Vermont including the critical access-designated Mt. Ascutney Hospital and Historic Homes of Runnemede, a senior residential care campus, in Windsor, as well as the Ottauquechee Health Center in Woodstock. A member of the Dartmouth Health system, MAHHC provides primary care and a comprehensive suite of specialty services, along with 25 inpatient beds, a therapeutic pool and an acclaimed, fully modernized 10-bed Acute Rehabilitation Center. Mt. Ascutney Hospital and Health Center is dedicated to improving the lives of those it serves and is at the hub of a wide network of community resources that have partnered to cover gaps in services, and improve overall population health. One of the largest employers in the area, MAHHC acknowledges its employees as its greatest asset and has been recognized by the Governor's Office with an Excellence in Worksite Wellness award.
Mt. Ascutney Hospital and Health Center is accredited by the Commission on Accreditation of Rehabilitation Facilities (CARF), is a recent recipient of Best Practice recognition by the National Rural Health Association (NRHA) for health care quality, and is recognized by the American Hospital Association (AHA) as one of the "Most Wired" hospitals for integration of technology to boost clinical performance. The National Committee for Quality Assurance (NCQA) has awarded MAHHC with Level 3 status, the highest level of medical home designation.
Dartmouth Health, New Hampshire's only academic health system and the state's largest private employer, serves patients across northern New England. Dartmouth Health provides access to more than 2,000 providers in almost every area of medicine, delivering care at its flagship hospital, Dartmouth Hitchcock Medical Center (DHMC) in Lebanon, NH, as well as across its wide network of hospitals, clinics and care facilities. DHMC is consistently named the #1 hospital in New Hampshire by U.S. News & World Report, and is recognized for high performance in numerous clinical specialties and procedures. Dartmouth Health includes Dartmouth Cancer Center, one of only 51 National Cancer Institute-designated Comprehensive Cancer Centers in the nation, and the only such center in northern New England; Dartmouth Health Children's, which includes the state's only children's hospital and multiple locations around the region; member hospitals in Lebanon, Keene and New London, NH, and Windsor, VT; and Visiting Nurse and Hospice for Vermont and New Hampshire; and more than 24 clinics that provide ambulatory and specialty services across New Hampshire and Vermont. Through its historical partnership with Dartmouth and the Geisel School of Medicine, Dartmouth Health trains nearly 400 medical residents and fellows annually, and performs cutting-edge research and clinical trials recognized across the globe with Geisel and the White River Junction VA Medical Center in White River Junction, VT. Dartmouth Health and its more than 13,000 employees are deeply committed to serving the healthcare needs of everyone in our communities, and to providing each of our patients with exceptional, personal care.