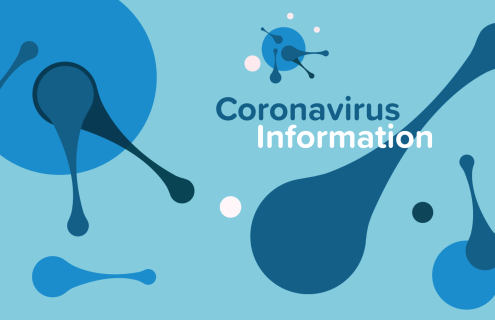 Welcome to Mt. Ascutney Hospital and Health Center's dedicated resource center for our response to the COVID-19 pandemic. Look here for the latest information and ongoing updates on our COVID-19 policies and protocols.
When you visit Dartmouth Health locations
New masking policy
We are safely relaxing earlier face mask standards due to our area's drop in COVID-19 cases. In most cases, we will not require healthy people to wear masks. There will be times a face mask is required, including when you:
Have signs of respiratory illness (with or without fever) such as congestion, cough, runny nose, and sore throat.
Have been diagnosed with respiratory illness (COVID, flu, etc.)
Have had a known exposure to COVID (within 7 - 10 days).
We are mask-friendly and continue to offer masks at no cost in our buildings. If you would like any member of the staff who are caring for you to wear a mask, please let us know. We are happy to wear one if you ask.
Testing information
We are pleased to be partnering with the state of Vermont to offer drive-thru COVID testing at Mt. Ascutney Hospital. This allows us to expand capacity for a much needed service to our community. Scheduling and results are managed by the State, but our employees will staff this tent from 12 to 4 pm, Monday through Friday. The testing is easily performed by you, from your vehicle, in the far corner of the main Hospital parking lot, at 289 County Road, Windsor, VT.
Instructions are provided at the testing site, and below, if you'd like to review ahead of time. Our staff will make sure you understand the process and help you through it.
Dartmouth-Hitchcock COVID-19 Hotline
On this page
The testing process
Vaccine information, ages 5+
COVID-19 vaccine by State
COVID-19 Vaccine distribution is directed by the Departments of Health in Vermont and New Hampshire.
Regardless of the state in which you receive your care, please refer to the Department of Health Website for your state of residency. Please utilize these websites for scheduling a vaccine at locations designated by the state. If you are unable to access these websites, both VT and NH have phone numbers you can call.
Vermont residents
New Hampshire residents
Please do not contact your provider, or the Hospital, regarding your qualification or to schedule appointments. We are unable to assist you with scheduling your vaccine for the current phases of vaccination. Vermont and New Hampshire are scheduling these appointments at designated vaccination areas in each state.
Additional information is available through the Dartmouth-Hitchcock vaccine website, including recent updates and information on Pediatric vaccinations.
Information on Vermont's vaccination plans can be found here.
Hospital updates: MAHHC and OHC are open and safe
We're here, we're open, and we're ready. We are currently offering routine primary care exams, ophthalmology visits, preventative services, surgeries, and therapy appointments. At this time, we are pleased to also be able to offer the use of video consultations and telehealth as appropriate, via our myMAHHC portal, as a convenience to you.
If you are experiencing a medical emergency, please call 911.
We ask for patience and understanding during these times. We continue to navigate changing technology, regulations, guidelines, and policies every day. Watch our video Here's What to Expect on YouTube.
Here's how we're working to keep you safe:
We know that this time has been difficult for everyone—it's been challenging logistically, physically, and emotionally. Thank you for your patience and understanding as we have developed and implemented these new protocols to help ensure your safety.
Visitor policy
Please see our Visitor Policy page for the latest information and ongoing updates.
COVID-19 information
Prevention
If you have symptoms
Symptoms
According to the Centers for Disease Control, COVID-19 symptoms can range from mild to severe, and in some cases, can cause death. Because this virus is new to humans, no one is immune. Older adults and those with underlying medical conditions are at increased risk of developing more serious complications.
Symptoms may appear 2-14 days after infection. You may be contagious before symptoms appear.
Common symptoms can include:
Less common symptoms can include:
If you develop any of these emergency warning signs, seek help right away.
What you should do
Testing and insurance
Mt. Ascutney Hospital charges $248 for testing of the COVID-19 virus. Insurance companies should not be charging a co-pay to patients for testing. If you get a bill for a co-pay for this service we will assist you in getting this corrected with your insurance company.
If you do not have insurance, and you receive a statement directly from us for a test, please call our Customer Service Office at (802) 674-7471, and we will assist you.
Telehealth
Please consider the benefits of a telehealth video visit instead of an in-person visit. This service will offer you a safer, more convenient way to receive ongoing medical consultations from a medical professional while you stay home and help contribute to slowing the spread of the coronavirus.
If you do not have a myMAHHC Patient Portal account with us, you will need to set one up, as this is the only way you can access telehealth services. We welcome you to enroll at your convenience.
To enroll in myMAHHC, please have your email address handy, and go to the MAHHC Self-Enrollment for My Patient Portal website, or call 802-674-7300, and choose option #3 for the Primary Care Clinic and speak with a representative who can help you get enrolled.
If you have been around someone with COVID-19 or infected with this virus within the last 10 days.
If you are ill or have symptoms that include coughing, runny nose, sore throat or trouble breathing.

Register for an appointment via Vermont's registration system.
Arrive at the testing site and check in with registration staff.
Registration staff will give you instructions for collecting a sample, which will be used for testing.
Your testing sample will be sent to a laboratory for analysis.
Once testing is complete, your results will be available for review in Vermont's testing registration system.

Vaccinations are given at various sites around the State.
Use the Vermont Department of Health website to make an appointment. When using the State's online scheduling system, you will find links for the State runs sites, as well as various pharmacies. If you do not see Mt. Ascutney Hospital in the list of vaccination sites, and you would like to have your vaccination given at Mt. Ascutney, try extending the date selection. Using the widest range of dates may improve your search results for available vaccination sites to choose from. If you are unable to make an appointment online, call 855-722-7878.

Use the New Hampshire COVID-19 website to get the latest on eligibility and to register for an appointment. If you are unable to make an appointment online, call 211.

Visitors are restricted, with approved exceptions for support persons/caregivers to accompany patients that need assistance in specific situations. All are thoroughly screened before entry. You must wear a mask the entire time you are in the Hospital. If you do not have a mask, one will be provided to you. Your temperature will be taken. We'll ask if you have any COVID-19 symptoms. Please answer their questions truthfully.
Patients may be directed to a separate clinic on the Windsor campus for further evaluation and COVID-19 testing if indicated. You may see a provider that is not your primary care provider.
Our waiting rooms and common areas have been reconfigured to ensure at least six feet of social distance for each person.
On occasion, people may be asked to wait in their cars until they are called for their appointment.
We have revised our scheduling to keep the number of people in our waiting rooms lower than usual for now.
Our spaces and all surfaces are cleaned constantly to ensure that every area is as clean as possible.

Follow State guidelines for mandatory or recommended activities and travel restrictions.
Socially distance. Keep at least six feet between you and others when in public, and

consider wearing a mask if with others not yet vaccinated. Or be aware and follow your State's guidance on masking

.
Wash your hands thoroughly and frequently, with soap and water, for at least 20 seconds, or use hand sanitizer. Watch this Centers for Disease Control video for handwashing tips.
Don't touch your face. The coronavirus can enter through your mouth, nose, or eyes.

Cough
Fatigue
Fever
Shortness of breath

Aches and pains
Diarrhea
Headache
Nausea, vomiting
Sore throat

Trouble breathing
Bluish lips or face
Persistent pain or pressure in the chest
New confusion or inability to arouse

If you are having a medical emergency please dial 911.
If you are ill, but not experiencing a medical emergency and feel you may have COVID-19, we recommend you stay home as you would with any other illness, and call your provider. We have testing available.
If you do not have a health care provider and feel you need to be seen for respiratory symptoms, we have a clinic where you can be seen and evaluated during our regular business hours, Monday through Friday, from 8:30 am to 4:00 pm. Contact us at (802) 674-7300, Option #5.